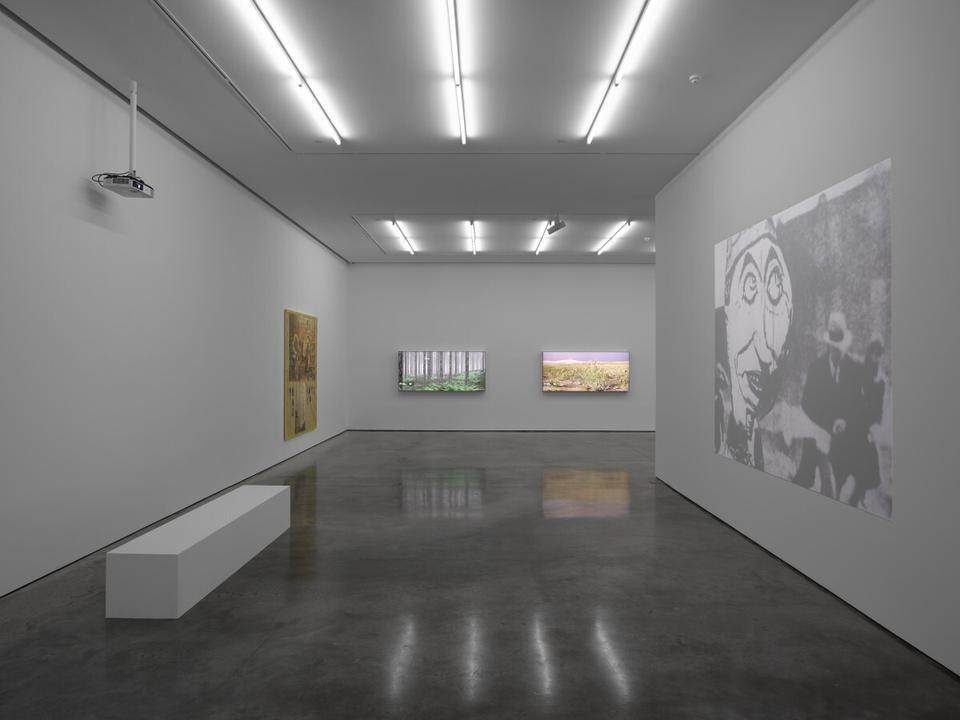 3 February – 17 April 2016
Dates
3 February – 17 April 2016
Location
144 – 152 Bermondsey Street
London SE1 3TQ

In his seminal film History of Nothing, Paolozzi creates a complex sequence of objects, architecture and landscapes, collaged together and accompanied by sounds. This layering of images serves to enhance and exploit the surreal and uncanny in mass media, everyday objects and the mechanical processes of industrial production. Continuing this vernacular, the artists in this exhibition employ branding strategies and use consumer iconography to explore the increasingly insatiable appetite for acquisition, whether material, cultural or ideological.
All of the artists display a critical awareness of global commercialism, resulting in works that are often darkly humorous. Mike Bouchet's painting of a cowboy coming down a mountain riding a bull, for example, references the classic Americana image of 'Marlboro Man'. A testament to the reach of consumerism, the work is painted using Diet Coca-Cola, the quintessential American soft-drink. Timur Si Qin continues the idea of a usurped landscape in his light box works, part of the ongoing 'Peace' campaign series. Depicting a 'mythical futuristic' place, the landscape assumes the role of protagonist in an undisclosed narrative, where the outcome will inevitably be at natures' expense.

Katherine Bernhardt's paintings are of instantly recognisable objects whose forms are simplified and often repeated. Playing off a susceptibility to marketing strategies, Bernhardt's images reinforce Paolozzi's belief in the power of objects to shape history. A surplus of commercial products is further explored in Nicholas Cheveldave's canvases, where packaging is the vocabulary of the work. Zak Kitnick's sculptures are appropriations of the American 'Hamilton Beach' brand of appliances, addressing the aesthetics of branding and advertising rather than the product itself. The isolation and elevation of an object is seen in the work of Anthea Hamilton, were the artist takes a traditional garment, the kimono, and foregrounds its mode of display.
Together with his long-time collaborator, the science fiction writer JG Ballard, Paolozzi was both fascinated and appalled by man's changing relationship to machines. In a similar way, the artists in this exhibition explore the ubiquitous presence of technology in society. The works of Thomas Bayrle, for instance, consist of repeated images of iPhones, which when put together, form a copy of a Caravaggio painting. Josh Kline's film uses a real-time face substitution programme to resurrect deceased musicians on screen, exploring a 'post-humanist' idea of what it really means to be an individual in the age of technology. Josephine Meckseper's installation Sabotage On An Auto Assembly Line (2009), deconstructs the mechanisms of capitalism through its appropriation of a production line and in Eloise Hawser's film, she fetishizes a relic of a bygone age – a cinema organ – which is now housed in Burberry's London flagship store, a pantheon to luxury consumer goods. 
During the preview, there was a newly commissioned performance by Eloise Hawser.