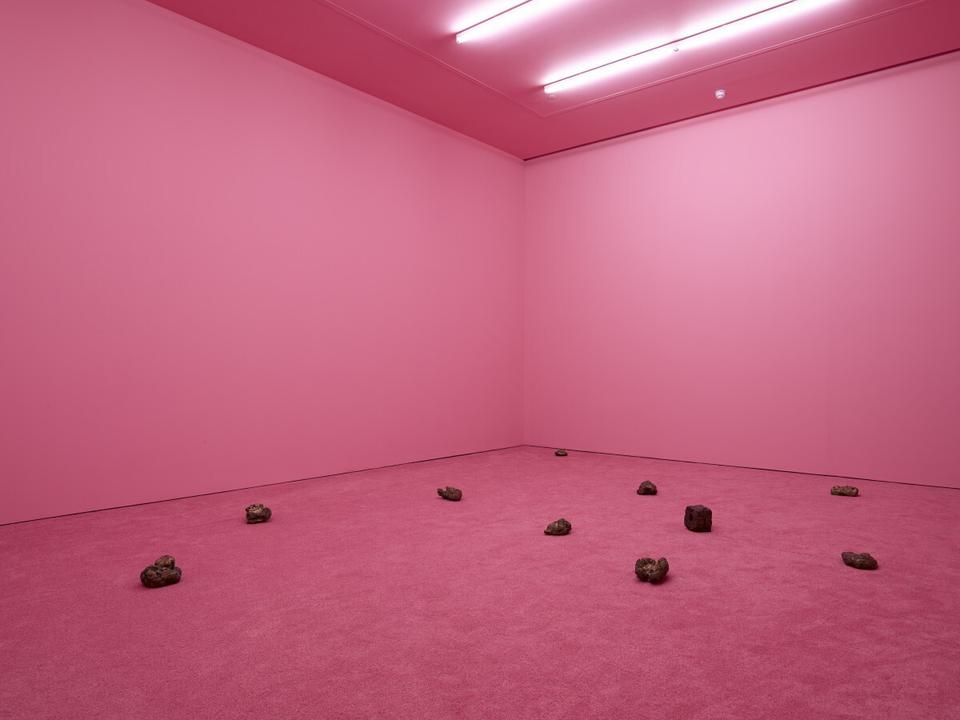 Inside the White Cube
22 January – 13 April 2014
Dates
22 January – 13 April 2014
Location
144 – 152 Bermondsey Street
London SE1 3TQ

Part of a new generation of conceptual artists in China using a range of media to articulate cultural and social concerns, He Xiangyu is known for his provocative and ambitious work.

Included in the exhibition was an iteration of He Xiangyu's Cola Project, which he started in 2008. For this work the artist boiled down 127 tons of Coca Cola over the course of a year. The resulting material residue has taken various forms including a highly corrosive, pungent earth-like substance, and a black ink that Xiangyu used to make Song Dynasty-style landscape paintings. For the exhibition at White Cube Bermondsey the soft drink residue was presented in heaped mounds inside three museum display cases, taking on the appearance of geological remains. Cola Project recalls works from the 1960s by artists such as Robert Smithson whilst also providing a commentary on the effects of western consumer culture on contemporary China, by subjecting its products to a profound process of material transformation.
Equally ambitious in scope, He Xiangyu's Tank Project (2011–13) is a life-size military tank made entirely of luxury Italian leather. The work took two years to create, and was hand-sewn by an entire factory of female needle workers, specially trained by the artist. This collapsed and deflated object suggests the steady advancement of Western materialism in contemporary China, and highlights the inter-dependencies of political and economic power.

The artist's interest in inverting value system is shown once more in 200g Gold, 62g Protein (2012) consisting of a solid gold egg carton containing one ordinary egg. The work questions the process by which value is assigned to objects, and in which art excels, imbuing objects and materials with meaning. It also carries more culturally specific references, specifically to the single child policy that has so profoundly shaped He Xiangyu's generation in China.

In contrast to the explicitly political nature of the artist's earlier practice, Everything We Create is Not Ourselves (2013) is a deeply introspective and personal work. The piece consists of small bronze casts from a mould the artist created by feeling the inside of his mouth with his tongue, and transposing this tactile sensation into a corresponding sculptural form. An even more direct reference to the artist's body is made through Wisdom Tower (2013), a small Chinese pagoda constructed using the artist's wisdom teeth.

He Xiangyu was born in Dandong, Liaoning Province in 1986 and currently lives and works in Beijing. He has held solo exhibitions in The Bathhouse, Tokyo; White Space, Beijing; Kunstlerhaus Schloss Balmoral, Bad Ems, Germany; Loft Art Gallery, Paris, and Wall Art Museum, Beijing. His work has been included in group exhibitions in Groninger Museum, The Netherlands; Ullens Center for Contemporary Art, Beijing; Iberia Center for Contemporary Art, Beijing, and Kunstmuseum Luzern, Switzerland.