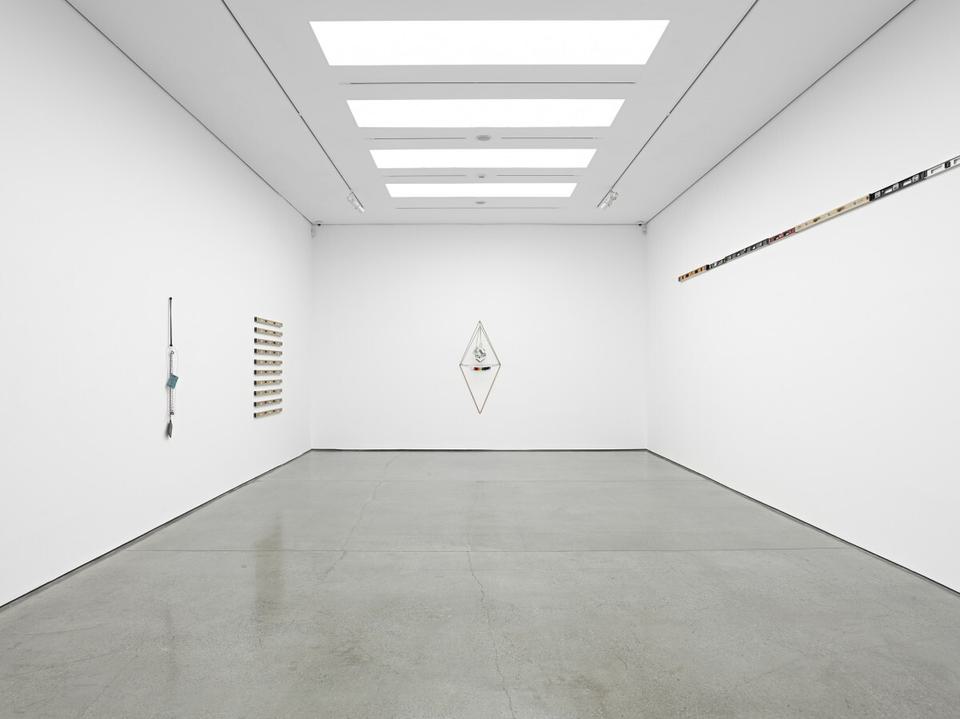 Dates
17 May – 6 July 2013
Location
25 – 26 Mason's Yard
London SW1Y 6BU

Entitled 'Hardware Silk', this was Leirner's first exhibition in London. Since her emergence on the international art scene at the beginning of the 1990s in dOCUMENTA (IX) (1992) and in the exhibition 'Sense and Sensibility: Women Artists and Minimalism in the Nineties at MoMA, New York' (1994), Leirner has become one of Latin America's leading conceptual artists.
The title 'Hardware Silk' derives from Leirner's obsessive accumulation of ordinary 'found' objects and ready-mades that become materials for her art. Specialist nautical ropes, colourful climbing clips, chains, steel cabling, domestic curtain rings or precision instruments such as spirit levels and rulers, are all items that Leirner uses and objectifies in her interventions and reconstructions. Leirner adopts a formal rigour and aesthetic to the way she collects, arranges and assembles, evident in this exhibition, which includes sculptural wall reliefs, a group of watercolours and a single, 19 metre-long installation that divides the lower-ground floor gallery.

In Portuguese, cigarette rolling papers are called 'papeis de seda' which translates into English as 'silk papers'. Leirner has been an avid smoker for most of her life and through this habit, has come into contact with the various types, colours and formats of these papers. She subsequently became fascinated with the minimal and insubstantial nature of this material for the same reasons that she adopted the incidental ephemera of the museum world - its artwork labels and business cards - in previous work. In the lower-ground floor gallery, Leirner gummed single Rizla papers directly on to the wall in row upon row to form grids, creating a diaphanous monochrome or minimalist painting that flutters and transforms as the viewer walks past. Titled 'Skin' (2013), the installation references both the habitual, repetitive activity of rolling papers and the physical, tangible nature of this material: a delicate and translucent syphon used to smoke tobacco and pot.
In the diamond-shaped sculptural work 'Portrait No.2' (2013) postcards of iconic portraits by numerous artists including Alberto Giacometti, Pablo Picasso, Henri Matisse and Andy Warhol are laminated and suspended from a chain like a series of personal mementos. Below them, a row of uniform shapes in rainbow coloured plexiglass create an abacus-like structure which references, through its use of repetitive, coloured squares, the colour theory investigations of Josef Albers. Like all of the sculptures in this exhibition, 'Portrait No.2' inverts the hierarchical value and functionality of the items it presents through its union of triviality and preciousness and exhibits Leirner's own unique and transgressive touch to both singular and collective objects.
On Friday 17 May 2013 at 1pm, Jac Leirner was in conversation with Jochen Volz at the ICA, London.