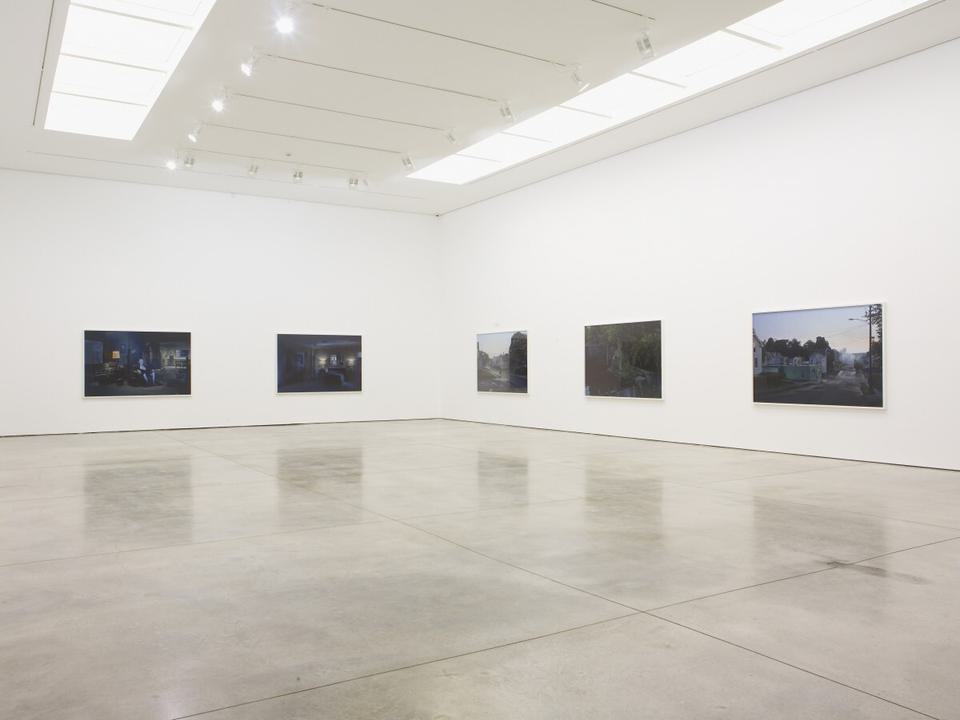 Dates
23 April – 24 May 2008
Location
25 – 26 Mason's Yard
London SW1Y 6BU

In this body of work, shot between 2005 and 2008, the artist continues to explore the lush and ragged edges of small-town America. While much of his earlier work focused on character and drama, Crewdson now shows a greater awareness of atmosphere and setting.
Gregory Crewdson shot these photographs in and around the same town in upstate Massachusetts, but the scenery varies widely, from leafy summer landscapes to stark, ghostly interiors and – a first for the artist – austere winter scenes. The surroundings and minor details – the light of a distant interior, the glow from a TV set, a highlight on a patch of muddy snow – are essential elements in the picture's composition, as forceful and significant as any figure. The stillness depicted in each photograph suggests a suspension of everyday life, and yet any hint of narrative or action is deferred by a mood of mystery and incompletion. A man pauses on a wet road in the hazy light of dawn and looks at a modest house; the shopping cart he pushes and the objects it holds are probably his only possessions. A semi-naked couple rest, in post-coital lassitude, surrounded by luxuriant green, with mist rising from the river running in the background. The atmosphere is tactile and moist, the light a substance that seems to cling to the leaves and bodies that occupy the space. The summer photographs bring to mind American realists such as Edward Hopper and Walker Evans, filtered through the damp, saturated colours in the work of eighteenth-century French painters such as Jean-Honoré Fragonard and Jean-Antoine Watteau. The importance of David Lynch and Alfred Hitchcock are evident in the interiors, which have an otherworldly intensity, and paralysis haunts the winter scenes. Overall, Crewdson's vision of everyday America is one of disconnection and belatedness.

This new body of photographs concludes Crewdson's Beneath the Roses series. The full series was published in a book by Abrams, with an essay by Russell Banks, in conjunction with the exhibition.

Gregory Crewdson was born in 1962 in New York, where he continues to live and work. Solo exhibitions include Palazzo delle Esposizioni, Rome (2007), Hasselblad Center, Sweden (2007), Fotomuseum Winterthur, Switzerland (2006), Kunstverein Hannover, Germany (2005) and SITE Santa Fe, USA (2001). Group exhibitions include Walker Art Center, Minneapolis (2008), V&A Museum, London (2006), Mori Art Museum, Tokyo (2005), Guggenheim Museum, New York (2004) and Museum of Modern Art, New York (2000).