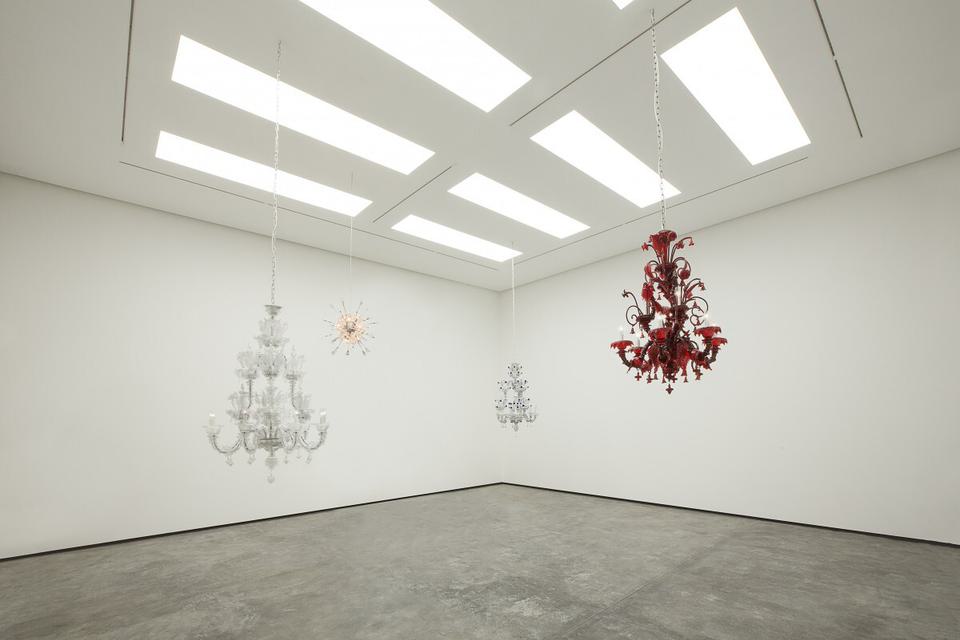 Cerith Wyn Evans
Grace to be born and live as variously as possible...
28 September – 17 November 2012
Dates
28 September – 17 November 2012
Location
50 Connaught Road Central
Hong Kong
Wyn Evans' conceptual practice incorporates a wide range of media including installation, sculpture, photography, film and works on paper. For this exhibition, the artist used an inscription from the tombstone of American poet and writer Frank O'Hara as the title and inspiration of his exhibition. The inscription reads: 'Grace to be born and live as variously as possible', a tender and celebratory epitaph, which could equally be considered as a subtitle to everyday life, evoking a desire to be open to possibilities and alternative adventures.
In the first floor gallery, Wyn Evans installed a group of four, new, crystal chandeliers that created a sense of theatrical occasion and an infinite world of interpretations. Clustered together, the chandeliers seem to be 'breathing' since their lights flicker on and off in different pulses. Each chandelier has been orchestrated to react to the beat of a particular piece of music such as Gimme Shelter (1969) by The Rolling Stones or Mahler's Symphony No. 5 (Adagio) (1902), turning these once decorative objects into phenomenological machines; a choir of different personalities and rhythms. The chandeliers create their own mellifluous language that suggests a fantastical structure of communication with intimations of an otherworldly presence or an improbable séance.

Wyn Evans frequently includes quotations from iconic literary sources in his work as raw material for future thought or as a way to reinvigorate original ideas. In the second floor gallery, a large neon text sprawls across the gallery, spelling out the phrase: 'Things are conspicuous in their absence…'. The text points to the ability of language to create moments of rupture and delight, where romantic longing, desire and reality conjoin and invite us to pay attention to the absence of things, to the emptiness between objects, words or thoughts. In the corner of the gallery, alongside the neon, three potted plants, indigenous to Hong Kong, slowly revolved on three turntables. Plant Revolution (2012) added an element of nature to the exhibition, exploring ideas of spatial intervention through a different kind of non-technological material. Movement is translated through the plants, turning them into intangible objects that are both sculptural, real and prop-like at the same time.