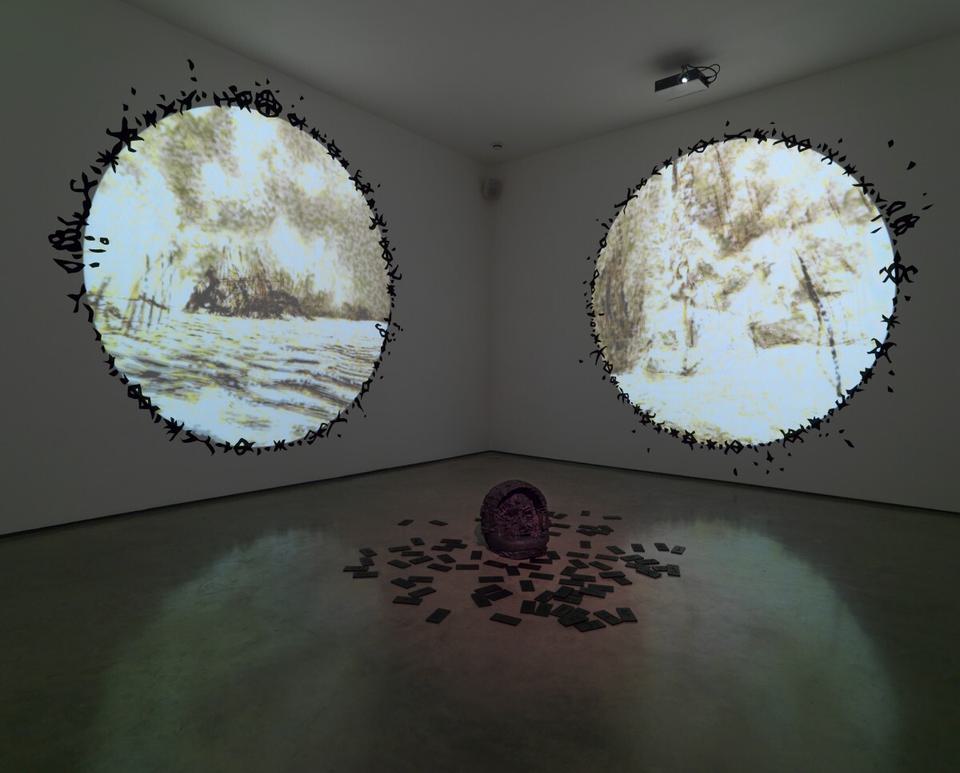 Dates
21 May – 28 June 2008
Using every available surface of the gallery, Ritchie's installation includes paintings, drawings, wall drawing, sculpture, projections and interactive elements. Marks move across a range of scales, space, time and material, from vinyl to canvas to photography, metal and wood.
Ritchie's work deals with the vastness of our universe and the various ways that we attempt to rationalise, fictionalise or understand the matter that exists beyond the limits of our perception, transmuting science, history and philosophy into raw material for what he describes as an 'information architecture'. This installation, entitled 'Ghost Operator', drew on historical and narrative circumstances specific to London but was also a continuation of themes from 'Universal Adversary', Ritchie's exhibition in New York, which traced a narrative arc from the invention of modernity to its recent end.

For 'Ghost Operator', Ritchie transformed the gallery with a spectacular light-box painting of a quantum sky and sea, called 'The Green Language', which acted as a canopy or environment for all the other elements. The light box linked to three large-scale oil paintings: densely worked abstract compositions that incorporated free-hand drawing and layered mark-making to depict a world in ceaseless flux. The exhibition also included, 'The Holstein Manifesto', a ten metre-long sculpture; part drawing, part radio tower, part rocket and scarred with bullet holes, it seems a relic of an apocalyptic past and future. A projector, housed inside the tower, projects a kaleidoscopic film trip through space and time that is accompanied by a music track that was pre-recorded in the gallery. A radically deformed gleaming gold head sits on the floor, plastic tarot cards, based on a period design from 1831, placed around it serving as a talisman of chance and probability.
Upstairs, three interactive film projections depict the drowning world of a city submerged. A charred wooden head, a more antique version of the head downstairs, is a Boca de Veritas. Functioning as a fortune-telling machine, its mouth reads the tarot cards strewn on the floor. A series of drawings complete the references to fortune telling, chance and quantum mechanics.
'When Sadi Carnot discovered "the arrow of time" in 1824 he invented the future. From then on it was all straight fiction, no chaser. Up in Camden, Marx and Mary Shelley dreamed of apocalypse and the perfectibility of man, from 'The Last Man' (1826) to 'The Communist Manifesto' (1848). Over there we can see an imploded head; the pilot of a drawing trying to become a rocket. The drawing and its cargo of chance were shot down over the quantum sea, inside a room trying to become a painting. A shotgun is as good as a paintbrush anyway. Upstairs, the head of a wooden astronaut from the 1860s (the Gun Club worked!) is a live Boca de Veritas, a fortune teller, trying to remember the future. It's 2048 and we're all underwater now – time for the grand tour. If Marx was the ghost, who was the operator? Who wasn't. "The movement is everything, the final goal nothing".' Matthew Ritchie 2008
Matthew Ritchie was born in London in 1964 and has lived and worked in New York since 1989. He has had solo exhibitions at Portikus, Frankfurt (2005); Mass MoCA, North Adams Mass. (2004); Contemporary Arts Museum, Houston (2003); Dallas Art Museum (2001); Miami MoCA (2000) and Cleveland Center for Contemporary Art (1999). His work has also been included in the São Paulo Bienale (2004), Sydney Biennial (2002) and the Whitney Biennial, New York (1997).
He has worked on several collaborations with architects, musicians and scientists for exhibitions at various venues including: Venice Architecture Biennial (2008); Seville Biennale (2008); Southbank Centre London (2009) and IRCAM, Paris (2009).