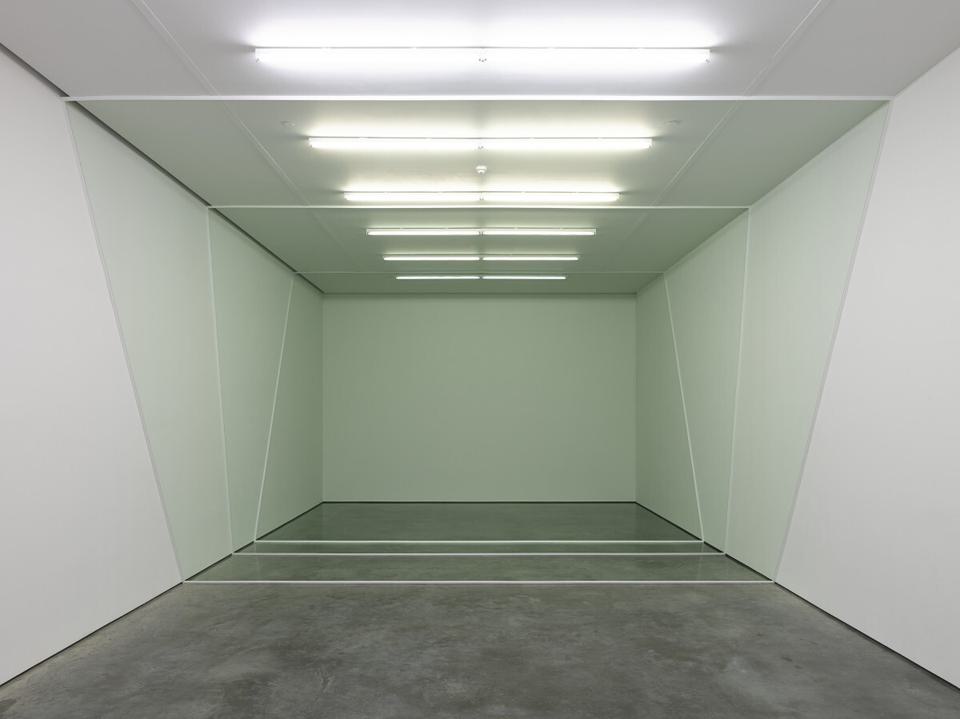 17 July – 29 September 2013
Dates
17 July – 29 September 2013
Location
144 – 152 Bermondsey Street
London SE1 3TQ

Marcius Galan explores the metaphorical capacities of space and our relation to it through his wide-ranging practice which includes installation, sculpture, photography and video. With a recognisably minimal aesthetic, Galan employs abstract geometry to delineate the political and social implications of his chosen environments, deconstructing the codes of objects established through everyday use. Whilst these configurations are always executed with graphic simplicity, Galan's works are in fact complex material experiments that interrogate the functions, limits and frontiers of space and by extension, the socio-political systems which reside therein. This exhibition included a selection of works installed across three distinct spaces at White Cube Bermondsey, including the North Galleries and 9x9x9.
Three Sections (2012), which occupied the entire space of North Gallery II, uses paint, floor wax and light filters to create three green-coloured planes in space that give the impression of three sharply-angled walls. Despite the formal proximity to the work of American 'Light and Space' artists like James Turrell and Robert Irwin, the construction is done through a minimal modification of the space itself, using no hi-tech artifice. The work proposes a shift in our perception to suggest the presence of an element that does not exist, causing a confusion that makes the viewer re-examine their own presence in relation to the space.

Galan further investigates the corresponding qualities of space in a range of sculptures that transform everyday materials such as iron, cable and wood. In Intersection=0 (2013), a group of interlocking concrete discs are placed on the floor. One disc has been visibly removed, its absence referring to the basics of geometry, since the viewer can understand the logic of the organisation, but can not complete the whole. In Inert or Folded Flag (both 2013), seemingly unyielding sheets of iron have been bent, folded and suspended encouraging a reassessment of the familiar and a disruption of how we expect materials to behave and function.
In the central 9x9x9 gallery, Galan installed a giant 'mobile' sculpture composed from a series of suspended iron discs that descend in increments from the largest to the smallest, coin-sized piece. Naturally these varying weights counterbalance and contradict the very nature of a 'mobile' by statically hitting the floor in addition to subverting the vertical volume of the gallery. In an adjacent space, the looped film Eclipse (2013) presented an image of a dark cylindrical machine rapidly spinning and grinding a metal coin until it eventually disappears in a shower of sparks. Similarly, in the work Erased Composition (progression) (2013), Galan produced a geometric grid of aqua-coloured erasers that visibly decrease in density, ranging from the whole object at the top to a pile of shavings at the bottom. Galan created the work by using the erasers for their intended purpose – rubbing out – in different degrees to create a work that, through the most simple and economic of means, invokes a range of philosophical and art historical precedents from Rauschenberg's Erased de Kooning Drawing (1951) to more metaphysical notions of matter and being.
Marcius Galan was born in 1972 in Indianapolis, USA and lives and works in São Paulo. Recent exhibitions include the Kunstlerhaus Stuttgart (2008); Museum of Fine Arts Houston (2009); São Paulo Museum of Modern Art (2010); 'Ha Sempre um Copo de Mar para um Homem Navegar', 29th Bienal de São Paulo(2010); 'Planos de Fuga', CCBB, São Paolo, curated by Jochen Volz and Rodrigo Moura (2012); 'Para ser Construidos', MUSAC, León (2012); 'This is Brazil! 1990-2012' curated by David Barro, Palexco, La Coruna, Spain (2012) and 'Blind Field', Krannert Art Museum and Kinkead Pavilion, Illinois, USA (2013). Forthcoming exhibitions include 'Diagrama' at Espacio NC Bogotá and 'Mythologies' curated by Kiki Mazzucchelli at Museum of Modern Art São Paulo. Galan has recently completed a residency at Gasworks, London which was supported by the PIPA prize, in collaboration with the Museum of Modern Art, Rio de Janeiro (2013).