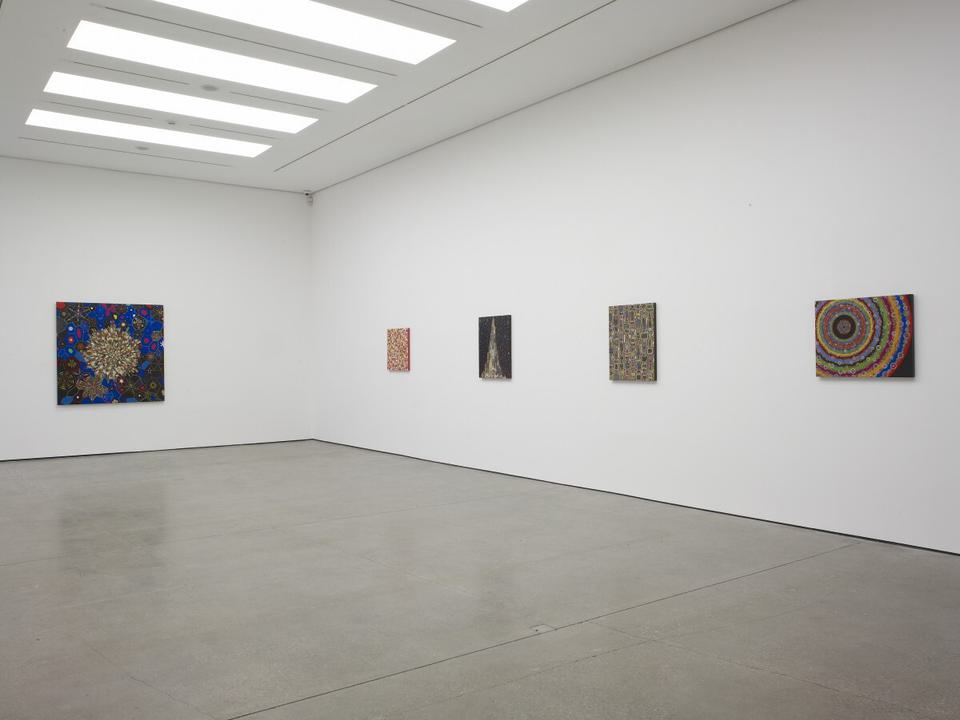 Dates
27 March – 16 May 2009
Location
25 – 26 Mason's Yard
London SW1Y 6BU

In his first exhibition at White Cube Mason's Yard, the American artist Fred Tomaselli showed a diverse range of new work. In addition to the richly layered resin paintings for which he has become recognised, the exhibition featured a series of photograms, newsprint collages, watercolours and his first hand-woven tapestry.
Growing up in Los Angeles during the tail end of the punk and hippie era, Tomaselli became wrapped up in the culture of both the volatile anger of punk and the escapism of hippie drug culture. Tomaselli maintains this counter-cultural fusion in work that manages to balance, as he says, 'precariously between ecstasy and apocalypse, in that it simultaneously acknowledges the mess we're in, while still finding what's left of the luminous'. At the Whitney Biennale in 2006, Tomaselli contributed to the re-creation of a 40-year-old collective work called Artists' Tower Against the War in Vietnam. Emerging from this project, Tomaselli has created two paintings of a burning tower as a kind of epitaph to the many peace monuments around the world. 'Tower of Peace Towers' (2007) is set aflame against a bucolic landscape on a cloudless day with a single plumage of celestial black smoke that billows from the composite tower, linking it with the heavens like a latter day Tower of Babel. A similar ambiguity is evident in 'Car Bomb', which appears to be a violent explosion as well as a radiant sunrise.

Tomaselli has always been an avid collector, regularly scouring various newspapers, fashion magazines, field guides, botanical or anatomical illustrations, for an array of images that he cuts out to collage and embed in his paintings. He arranges a variety of eyes, mouths and hands, with their various perspectives and expressions, so that they are 'all coming together in a drunken chorus'. Flipper is an eight-foot-wide expanse of visual energy that draws the viewer towards its reverberation of ovoid sine waves – created from minute collaged strands of flora, fauna and anatomical diagrams – like a visual force field. Sharing Pollock's expressive, mural-like vision (significantly he also works on these larger works on his studio floor) Tomaselli creates a bold rhythmical composition set against a dark backdrop that the artist implies acts like a 'space dome'.

Tomaselli's new work is a departure from his earlier, more direct use of pills, hemp leaves or ornithological references. The birds are painted with greater freedom, with each flame-like brushstroke animating the feathers as if an aura were radiating from the wild creature. Big Raven is inspired by the American Gothic tradition and the poetry of Edgar Allan Poe, while Detail, with its dramatisation of the relationship between predator and prey, is a timely homage to Darwin's Origin of the Species. The single, hypnotic gaze of Eye celebrates Tomaselli's understanding of visual reciprocity – as if the bird were returning the artist's affectionate stare. This reoccurs in the galaxies of multiple eyes found in his photograms, or monstrous apparitions created in direct response to front-page articles from the New York Times, through to the talismanic eye that emerges from the sea in Summer Swell, as if it were drowning in its own visual abundance.

Fred Tomaselli was born in Santa Monica, California in 1956. He has been included in numerous group exhibitions including 'Open Ends', MoMA, New York (2000), the Berlin Biennale (2001), the Liverpool Biennial (2002), the Whitney Biennial (2004), the 5th Site Santa Fe Biennial (2004, 'Ecstasy', LA MoCA (2006) and 'Prospect 1', New Orleans Biennale (2008). Solo exhibitions include Whitney Museum of American Art, New York, (1999), Palm Beach Institute of Contemporary Art, Florida (2001), Site Santa Fe, New Mexico (2001), Albright-Knox Gallery of Art, Buffalo, New York (2003), Fruitmarket Gallery, Edinburgh (2004), IMMA, Dublin (2005) and The Rose Art Museum, Massachusetts (2005). In August, the Aspen Art Museum will open a major survey exhibition of Tomaselli's work, which will then tour the States.

A fully illustrated catalogue, with an essay by Katy Siegel accompanied the exhibition.