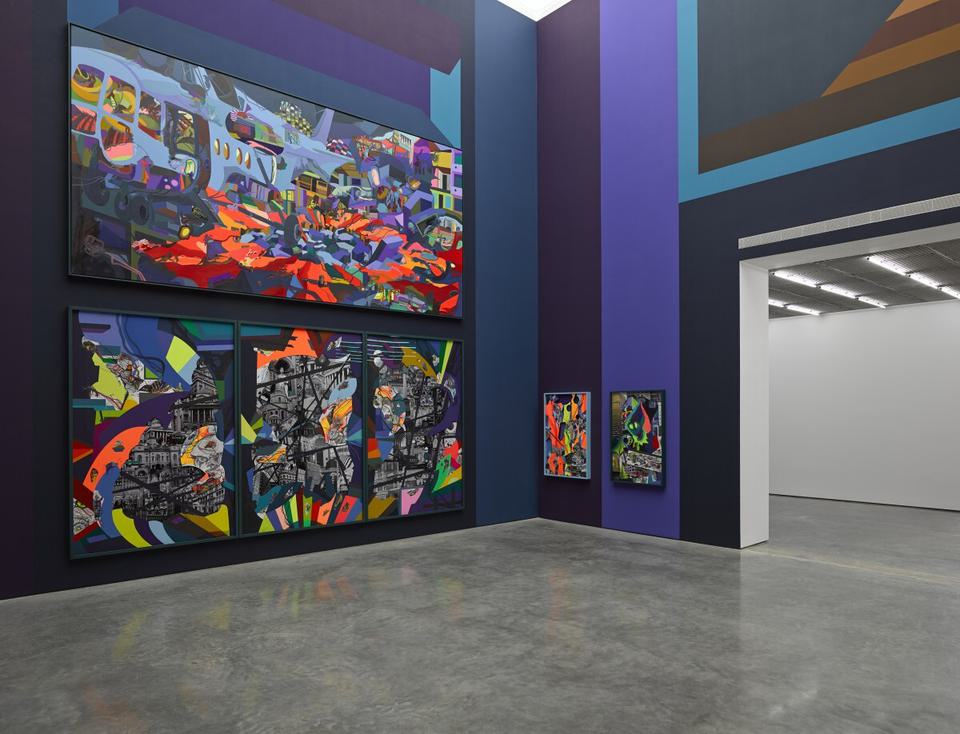 22 January – 13 April 2014
Dates
22 January – 13 April 2014
Location
144 – 152 Bermondsey Street
London SE1 3TQ

Franz Ackermann creates cartographic watercolour drawings of urban areas undergoing rapid growth and development. These 'mental maps' form the basis of his multi-faceted site-specific artworks. Alongside the maps his work incorporates brightly painted wall murals, three-dimensional panels that jut-out into space, and black and white photographs, in an all-encompassing environment that dissolves traditional boundaries between artistic media.
Ackermann's work is charged with the frenetic energy and underlying tensions of densely populated urban areas. For his exhibition at White Cube Bermondsey these urban themes took on quasi-religious connotations, recreating the sensory exuberance and visual stimuli of a renaissance chapel, in which paintings hang in close proximity to one another around a prominent, architectural centrepiece.

Underlying the exhibition was a highly subjective experience of place that emphasises playfulness, drifting and the unreliable mechanisms of memory. These themes are not only represented visually in the work but are also an important aspect of how the work is encountered. Experienced spatially as well as visually, audiences were compelled to move around the installation, continuously adjusting and re-adjusting their views and subsequent reading and understanding of the work.

Franz Ackermann was born in 1963 in Neumarkt St Veit, Germany, and lives and works in Berlin. He has exhibited extensively including solo exhibitions at the Berlinische Galerie, Berlin (2013); Kunstmuseum Bonn (2009); Kunstmuseum St Gallen, Switzerland (2008); Irish Museum of Modern Art, Dublin (2005); Kunsthalle Basel (2002); Stedelijk Museum, Amsterdam (2002); Castello di Rivoli, Turin (2000) and Portikus Frankfurt am Main (1997). Important group exhibitions include 'Altermodern', Tate Triennial, London (2009); 'Tokyo-Berlin/Berlin-Tokyo', Mori Art Museum, Tokyo and Neue Nationalgalerie, Berlin (2006); Biennale d'art contemporain de Lyon; 'Remote Viewing (Invented Worlds in Recent Painting and Drawing)', Whitney Museum of American Art, New York and 'Drawing from the Modern, 1975–2005', MOMA, New York (2005).