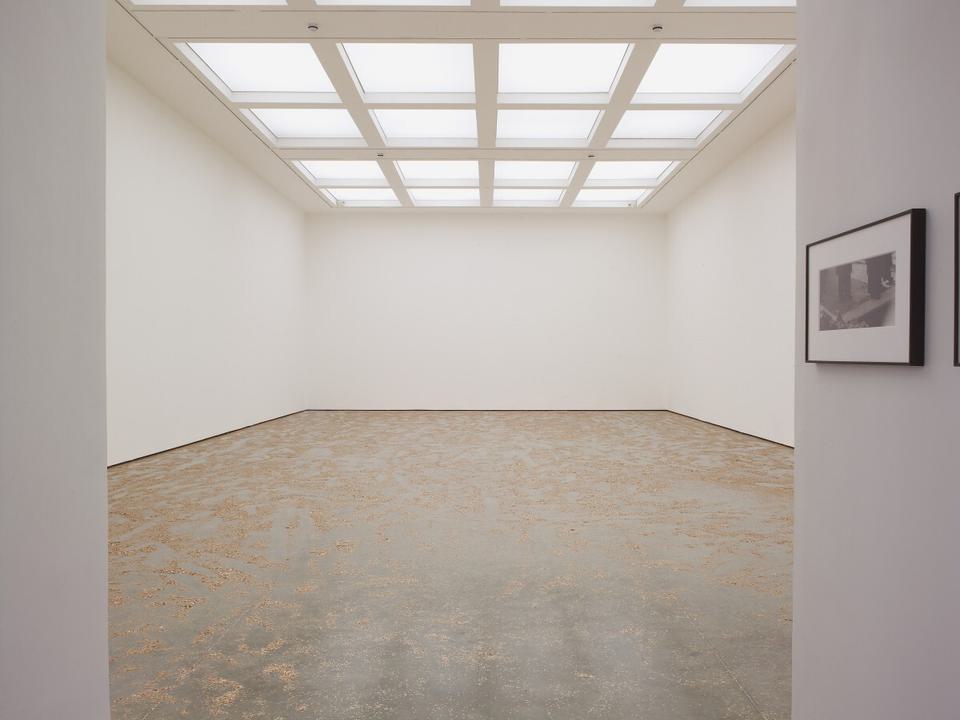 8 September – 9 October 2010
Dates
8 September – 9 October 2010
Taking the Latin for 'festival', Martin's work celebrates the ambiguity of the term, how it embodies our attitudes about both life and death, both jubilation and the fragility of our existence.
In the upstairs gallery was 'Festum' (2010), a garland formation of figures that undulated across the space, rather like bunting or the paper-chain figures that are used for decoration at children's parties. To create this festoon, Martin sourced over 200 metal Christ figurines from the nineteenth and twentieth centuries, detached them from their original wooden crosses, and interlinked through the stigmata on their hands. 'Festum' points to society's readiness to reference and celebrate such religious events, while at the same time it offers a critique of the contemporary malaise regarding religious faith and doctrine.
Europe's Christian and iconological heritage was further addressed in another work featuring a golden niche, an objet trouvé that Martin found with the Madonna missing, leaving only a trace of gilding where the deity had originally been glued. 'Stabat Mater' (2010) takes its title from a hymn based on a medieval poem that meditates on Mary's grief at the crucifixion of Christ. The niche, now stripped of its Madonna, otherwise referred to as 'the sorrowful mother stood' or 'Stabat Mater dolorosa' highlights how for centuries much of contemporary Western culture has been abandoning Christian values and the belief in the existence of the divine.
Visitors to the ground floor gallery could be forgiven for thinking that they'd stumbled upon the debris from some kind of party. Covering the floor were thousands of copper bronze discs, smaller than a penny and so highly polished that they vary in colour according to the direction of the light, combining to create a kind of pointillist carpet. 'Festum II' (2010), is a playful take on the paper confetti that is often thrown at parties, gigs, carnivals or over a newly married couple. It marks the hiatus of the celebration and afterwards is left to be trodden on and disintegrate. Here the residue is ossified in punctured bronze discs that glimmer and shift as the visitor walks over them and gradually pushes the artwork underfoot out of the gallery as if to remind us of our own transience. This is reflected by a series of four 'found' photographs where Martin focuses on the final 'rite of passage' as mourners process past an open grave and walk away.
Kris Martin was born in Kortrijk, Belgium in 1972 and is based in Ghent, Belgium. Martin has shown extensively with major group exhibitions including 'Traces du sacré', Centre Pompidou, Paris (2008), 'Passengers', Wattis Institute for Contemporary Arts, San Francisco (2007), 'Learn to Read', Tate Modern, London (2007) and 'Of Mice and Men: 4th Berlin Biennale for Contemporary Art' (2006). Solo exhibitions include; Aspen Art Museum, Colorado (2009), Wattis Institute for Contemporary Arts, San Francisco (2008) Museum Dhondt-Dhaenens, Deurle, Belgium (2008), Inter pares, Galleria d`Arte Moderna e Contemporanea GAMeC, Bergamo (2008), P.S.1, MoMA, New York (2007). Coinciding with this exhibition, Kris Martin will participate in 'Touched', Liverpool Biennial, 18 September - 28 November 2010.