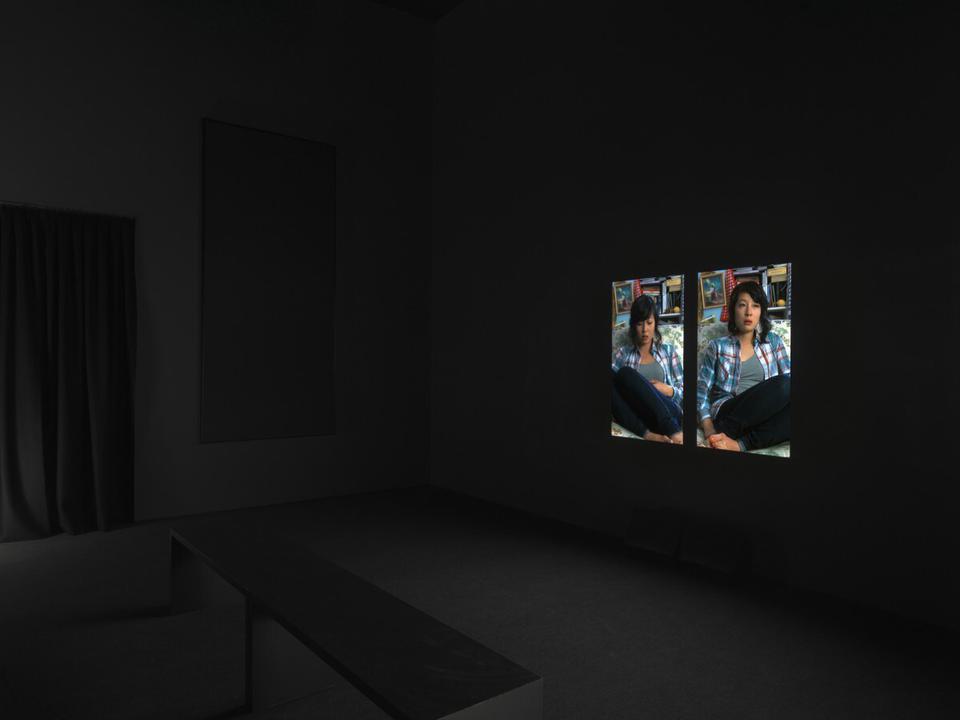 12 February – 20 March 2010
Dates
12 February – 20 March 2010
White Cube Hoxton Square presented 'Factum', an exhibition of new work by Candice Breitz, the artist's third exhibition at the gallery. Shot in Toronto, Canada, 'Factum' is a series of in-depth video portraits of twins - and one set of triplets - that extends Breitz's ongoing interest in doubling, portraiture and identity. Titled after Robert Rauschenberg's 'Factum I' and 'II' (1957) near-identical twin paintings, Breitz's 'Factum' explores the modes of internal and external forces that drive individuation.
Breitz has often shown an interest in the alternating modes of desire and repulsion that shift between lovers, fans and celebrities. 'Factum' looks at the intensity of these forces between identical twins. Each 'Factum' is presented as a diptych (and one triptych), with each twin or triplet beside his or her sibling, dressed almost identically and in the same setting. Breitz interviewed each individual alone for up to seven hours, asking each twin the same set of questions. The artist then transcribed and analyzed each pair of interviews before editing the material into a dynamic conversation between the siblings, with the intertwining forces of documentary and fiction constantly at play. Through candid, often emotional responses, they reveal the strangeness, joys and difficulties of living one's life in parallel to someone who shares your exact genetic code and yet who possesses a distinct identity, with desires and tastes that may differ in subtle or significant ways. While the initial interview allowed each twin or triplet to tell his or her own story unencumbered by the presence of a sibling, Breitz complicates this relationship in the finished work by introducing the other twin as an interlocutor who offers a different perspective, with the artist also implicitly present as a third 'author' to the biographies. Through this format, Breitz underlines how any biography becomes a negotiation between various relationships, circumstances and desires - not to mention one's genetic heritage.

Four diptychs and one triptych were exhibited. In 'Factum Kang' the Kang sisters Hanna and Laurie speak about the effects of being brought up according to the strictures of a Korean-Presbyterian morality, the strain of trying to break away from this tradition, and the guilt that shaped their discovery of sexual desire. 'Factum Misericordia' features Pauline and Mary, born in 1933 in Ottawa, who seem to goad and tease one another about their vanity, intelligence and reading habits. They reveal, with different degrees of candour, their childhood ambivalence about their Italian identity, the favouritism of their difficult father, and their matching, or almost matching, cosmetic surgery. The Tangs, young triplets developing nascent careers as 'model slash actresses', speak coyly about their individual and mutual reception by the beauty industry in 'Factum Tang'.
'Factum' was commissioned by The Power Plant, Toronto, in conjunction with Partners in Art, Toronto.
Candice Breitz was born in 1972 in Johannesburg, South Africa. She lives and works in Berlin. She has participated in many major exhibitions including the Johannesburg, São Paulo, Istanbul, Kwangju, Taipei and Venice Biennales. She has had solo exhibitions at De Appel Foundation, Amsterdam (2001), Moderna Museet, Stockholm (2004), Modern Art Oxford (2003), Castello di Rivoli, Turin (2005), Palais de Tokyo, Paris (2005), Temporäre Kunsthalle Berlin (2008), The Louisiana Museum of Modern Art, Humblebaek, Denmark (2008), The Power Plant, Toronto (2009) and Kunsthaus Bregenz (2010).