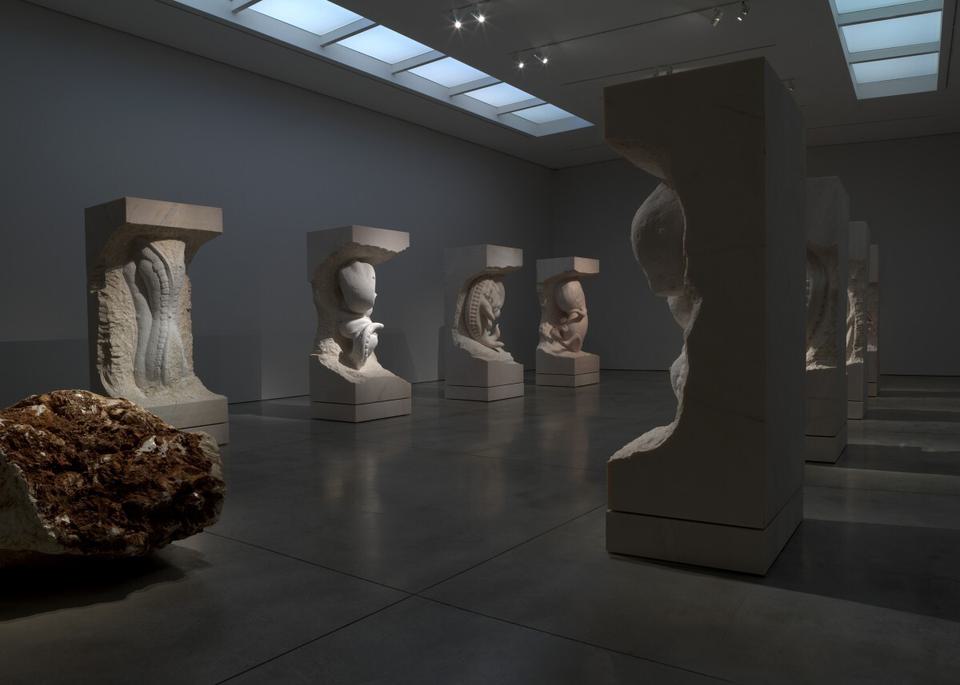 25 January – 23 February 2008
Dates
25 January – 23 February 2008
Location
25 – 26 Mason's Yard
London SW1Y 6BU

White Cube Mason's Yard presented 'Evolution', a major new installation featuring a series of nine monumental sculptures, in fleshy pink marble, that represent the growth of the human embryo and foetus during its gestation. Quinn was prompted to make these works after witnessing the way many viewers reacted with repulsion to his series of figurative sculptures depicting people who are missing arms and legs. He felt the need to confront people with a direct portrayal of their own strange beginnings, the unsettling and barely recognisable shape taken by human life before birth. Developed from scans and factual photographs, these sculptures are biologically accurate but also bring to mind topical issues such as genetics and the manipulation of DNA. Each embryo or foetus appears as if it is emerging out of its raw material before our eyes, struggling in the manner of Michelangelo's Dying Slaves, sculpted in the 1520s for Pope Julius II's tomb in the Vatican. (A point Quinn emphasises by including a huge lump of untouched marble at one end of the gallery.) 'Evolution' illuminates the magical nature of human development and celebrates the emergence of life from matter, making visible what is hidden.
In the ground-floor gallery, Quinn presented another new series of works: delicate flower sculptures based on hybridised and collaged parts of natural phenomena. Adapted from exotic orchids, fruit, vegetables and flowers, the artist has collaged these real elements together, cast them in bronze and then finished them with a heat treated chrome-plated bronze finish, a luminescent, reflective and highly decorative surface. These works continue to explore Quinn's interest in our increasingly distant relationship to all things natural, as well as our desire for ever more complex and altered fruit and flora during any time of the year, no matter what the season. Like Quinn's well-publicised work Garden (2000), a walkthrough installation that brought together thousands of frozen flowers in an impossibly perfect botanical situation, these sculptures comment on plant evolution, climate change and global warming. Also included in the ground-floor gallery were four large-scale paintings. Based on photographic still lives that Quinn sets up in the studio, these works are executed in a hyper-realist manner, reflecting back to us in a larger than life size our appetite for perfection in natural forms.

Marc Quinn has exhibited in many important group and solo exhibitions internationally. Recent solo exhibitions include Fondazione Prada, Milan (2000), Tate Liverpool (2002), Irish Museum of Modern Art, Dublin (2004), Groninger Museum, Groningen (2006), MACRO, Rome (2006) and DHC/Art Foundation pour l'Art Contemporain, Montreal (2007).
A fully illustrated catalogue, with an essay by Jerry Brotton and an interview with Will Self, accompanied the exhibition.