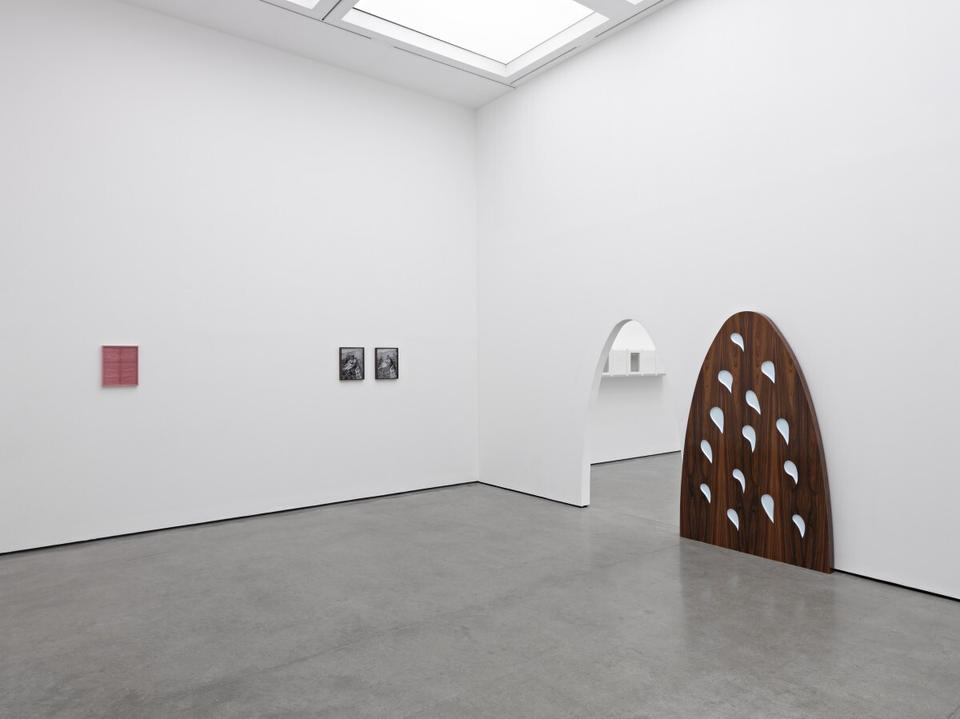 23 September – 12 November 2011
Dates
23 September – 12 November 2011
White Cube Hoxton Square presented an exhibition of new work by Elad Lassry. Known for his work in film and photography that combines intricate surfaces with an investigation into the nature of perception and the present-day image, Lassry has become one of the most celebrated young artists working today. For this exhibition, his first with the gallery and his first solo show in London, Lassry presented a large body of new pictures and four sculptures.
Elad Lassry's practice expands the traditional picture genres of still life, portraiture and landscape, and he has developed a distinctive idiom through the intensity of his imagery and a rigorously serial approach - every picture, whether in portrait or landscape, is precisely the same scale. Pictures such as 'Sterling Silver Vases' or 'Cat and Duck (Red)', for example, present the viewer with an enticing range of surfaces, textures and colours, as well as objects that are both banal and captivating. These pictures would seem to ask strictly visual questions. How does an object, or texture, react to light? How does an object control the confined space of a picture? How do we perceive surface and substance, flatness and depth? The frames, which in the colour pictures are always painted a hue identical or complementary to a dominant hue in the image, do not mark the end of the work but rather extend it into space. As the frame casts its shadow across the wall and image, the viewer is taken by a paradoxical sense of seeing an image and an object at the same time, and thus becomes absorbed in the task of trying to disentangle the two. Although a contemporary image exists as a digital file, which is infinitely reproducible and transferable, the picture, as a framed print on paper, becomes an enduring object. What faculties, the artist invites the viewer to ask, do we make use of when we try to decipher these pictures? This pleasingly bewildering visual experience opens up broader conceptual questions about the interaction between representation and objecthood, and how both can co-exist in a single artwork.

The range of perceptual registers and paradoxes that Lassry sets up in his pictures are also at work in his sculpture. The artistl presented two new cabinets and an eight-foot long panel of zebrawood featuring several indentations in the front edge, each holding a painted wooden egg. The cabinets reflect the dimension of Lassry's pictures, and they hang on the wall as both convincingly functional objects and otherworldly representations of cabinets. The sculptures, as a group, question the elusive condition of an object in his work, whether pictured or present.

A fully illustrated catalogue, featuring an essay by the art historian Douglas Crimp, accompanied the exhibition.

Elad Lassry was born in Tel Aviv in 1977; he lives and works in Los Angeles. His work has appeared in many international exhibitions, including solo shows at the Contemporary Art Museum, St. Louis, MO (2010); Kunsthalle Zurich, Switzerland (2010) and Whitney Museum of American Art, New York (2009). Group exhibitions include the 54th Venice Biennale, International Pavilion; Deutsche Börse Photography Prize, The Photographers' Gallery, London; The Anxiety of Photography, Aspen Art Museum, Aspen, CO (all 2011); Sculpture Center, New York; 'New Photography 2010', Museum of Modern Art, New York (2010) and 'Younger Than Jesus', New Museum, New York (2009).