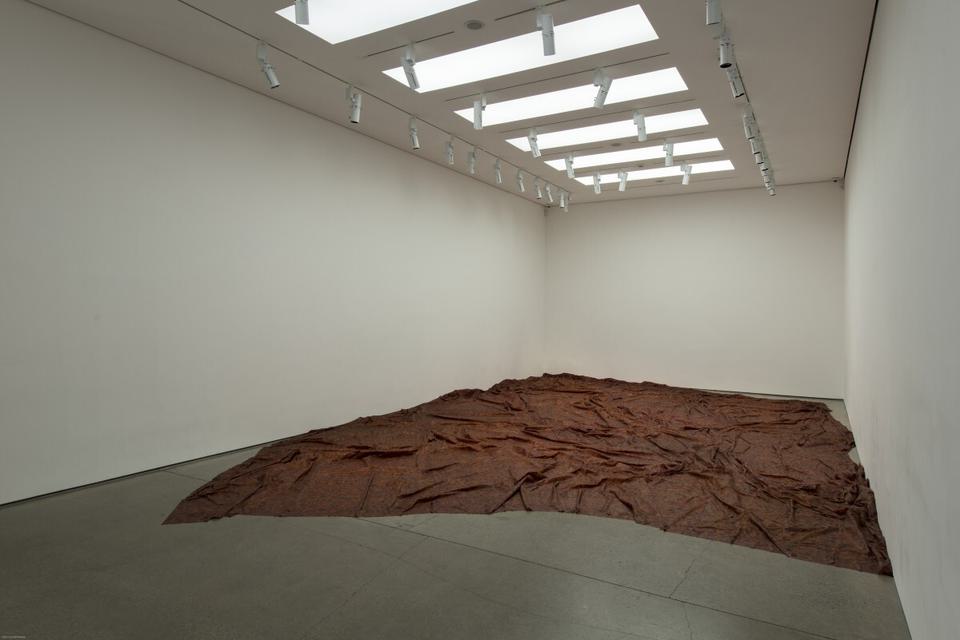 Dates
25 May – 30 June 2012
Location
144 – 152 Bermondsey Street
London SE1 3TQ

For her exhibition at White Cube Mason's Yard, Colombian artist Doris Salcedo presented two new, large-scale works. 'Plegaria Muda' (2008-10), situated in the lower ground floor gallery, is a major installation consisting of a number of individual sculptures that evoke a mass memorial or collective burial site. In the ground floor gallery on show was an intensely fragile sculpture entitled 'A Flor de Piel' (2012); a shroud composed of sutured rose petals.
Salcedo is well known for her politically engaged work that attempts to bear witness to specific acts of violence. Work on 'Plegaria Muda', loosely translated as 'mute prayer', began in 2004 in Los Angeles when Salcedo started researching the violent life of young people in the ghettoes of the city. Three years later, the installation took more direct shape after the bodies of 1,500 young men were found in Colombia. The men were from very poor families and had been lured with the offer of a job in the army, only to be then taken to remote areas of the country and murdered, falsely presented as guerrillas or paramilitaries killed in combat.

For this exhibition, Salcedo created a site-specific installation using forty-five units out of a total of one hundred and sixty-two that make up the full 'Plegaria Muda' installation. Each sculpture, approximately the length and width of a standard coffin, consists of two oblong tables made out of aged and greyed wood. The tables have been placed on top of each other, surface to surface, as if their original function is over and are divided by a thick slab of earth. Although each table is of similar dimensions, in keeping with Salcedo's past practice, each one has been highly worked and has been coloured and cut to appear distinct and particular. On the uppermost table surface we glimpse delicate shoots of brilliant green grass that have somehow pushed through the wood, as if life itself is reasserting its grip. Grouped together in the gallery space the minimal, modular installation has the distinct aura of a silent graveyard; albeit one that has individual, distinct tombstones for each and every subject.

In the ground floor gallery, Salcedo presented 'A Flor de Piel': an enormous shroud made up of thousands of rose petals connected to each other in a suspended state - neither fresh nor withered - and which may transform during the course of the exhibition. 'A Flor de Piel' developed as a sculpture that was about the simple but impossible task of making a flower offering to a victim of torture. The work has been described by Salcedo as 'a very delicate and almost insubstantial piece… an ephemeral skin or shroud'. For Salcedo, the process of making the work is a journey; a way of working through and connecting with meaning as much as a way of engendering the final material form itself. With 'A Flor de Piel', Salcedo was pushed to find the 'limits of the fragile and the most delicate within the frame of sculpture'.

Salcedo's work is often concerned with the articulation of the singular to the group, of an individual subject versus the anonymity of the mass grave, with personal grief as opposed to the irrelevance of an 'official' death toll statistic. Although her work has moved towards architectural installation in recent years, (exemplified by 'Shibboleth' at Tate Modern in 2007) both 'A Flor de Piel' and 'Plegaria Muda' bring it firmly back to sculpture. As the artist has commented, these works 'refer to something extremely private', a way of approaching the general through specific instances of personal loss.

Doris Salcedo has exhibited internationally, including the following solo exhibitions: 'Plegaria Muda', MAXXI, Rome (2012); MUAC, Mexico City; Moderna Museet, Malmö and Centro de Arte Moderna, Gulbenkian, Lisbon (2011), 'Neither', Inhotim, Centro de Arte Contemporânea, Belo Horizonte, Brazil (2008), 'Shibboleth', Tate Modern, London (2007), Camden Arts Centre, London (2001), 'Unland', Tate Britain, London (1999), San Francisco Museum of Modern Art (1999) and New Museum of Contemporary Art, New York (1998). Group exhibitions include 'The New Décor', Hayward Gallery, London (2010), 'NeoHooDoo', PS1 Contemporary Art Center, New York and The Menil Collection, Houston (2008), 8th Istanbul Biennial (2003), Documenta XI, Kassel, Germany (2002) and XXIV São Paulo Biennial (1998).