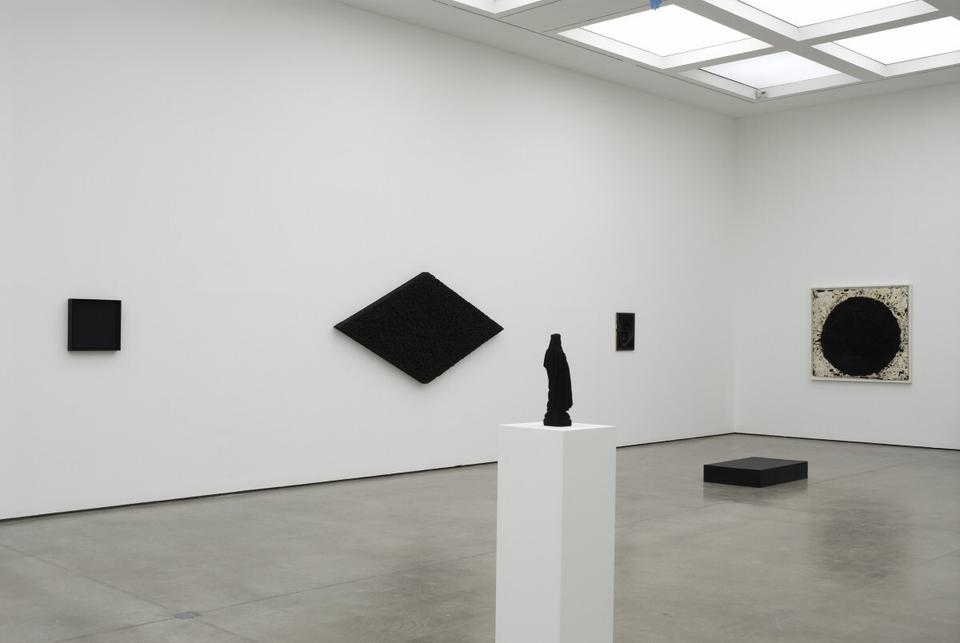 7 July – 9 September 2006
Dates
7 July – 9 September 2006
Dark Matter, a title inspired by a term used by astronomers to refer to the invisible expanses between points of visibility – an enigmatic darkness, or, in the words of the poet E.E. Cummings, 'the wonder that's keeping the stars apart'.

Almost all the works shown in the exhibition were black or to do with darkness and the show brought together artists including Art & Language, Katharina Fritsch, Felix Gonzalez-Torres, Mark Grotjahn, Damien Hirst, Gary Hume, Ellsworth Kelly, Damián Ortega, Ad Reinhardt, Richard Serra, Hiroshi Sugimoto, Gavin Turk, Andy Warhol and Cerith Wyn Evans.
Since Kasimir Malevich's Black Square of 1915 artists have been making black works according to different aesthetic premises. The black monochrome has, however, engendered a paradoxical history as arguably a 'last painting', a zero point beyond which painting could not go, suggesting painting as an object instead of as a window onto another space. And yet it was also experienced as a kind of negative icon, representing a sacred transfiguration of the material into the immaterial.

The artists in the exhibition made their works according to very different aesthetic and conceptual premises but can be seen in various ways to replay and recast this paradoxical history – reworking minimalism, exploring the negative sublime in works concerned with a dark light and in making works that preserve an emblematic and reduced image within their extreme abstraction, like icons which discharge a negative aura.