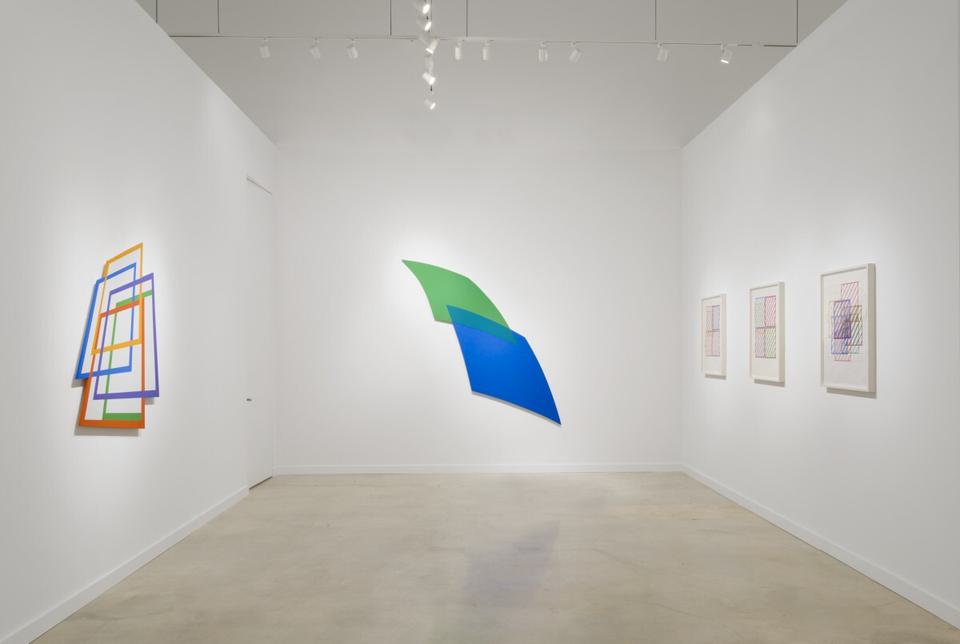 Dates
5 – 26 February 2022
Location
2512 Florida Avenue
West Palm Beach, FL 33401

White Cube is pleased to present an exhibition of work by Hungarian artist Dóra Maurer at West Palm Beach. Born in 1937, Maurer is one of Hungary's most influential and significant artists, whose experimental practice – as artist, teacher and curator – spans more than five decades. Bringing together paintings and works on paper from various series that date from the late 1970s to the present day, Quod Libet showcases her pioneering investigations into perception, colour and abstract form.
The earliest works in the exhibition belong to Maurer's 'Displacement' series produced in the 1970s, in which the artist systematically traces movement and change. These tempera on paper pictures from 1972 feature coloured rectangles with diagonal bands overlaid across the surface, following a predetermined organising principle. The result of shifting and re-arranging of the initial form – horizontally, vertically or diagonally – the works reference mathematical systems and the 'magic square' which, for the artist, is 'a basic symbol of human existence and thinking'.

The presence of the body and the sense of autonomy within an overarching conceptual framework characterises Maurer's practice. Playing with spatial illusion and what the artist calls the 'function of seeing', the 'Overlappings' and subsequent 'IXEK' works involve shaped canvases on wood panels – bold, geometric areas of colour, layered to produce an effect of transparency and insinuate sculptural form. In the 'Overlappings' series, the rectangles are rendered as if projected one onto the other, their stretched quality resulting from what Maurer has described as the 'reciprocity of colour and form'. These explorations are furthered in the 'IXEK' series, in which overlayed and interconnected areas of colours create complex visual distortions.

Maurer's interest in colour perception derives, in part, from the 1963 essay 'Interaction of Colour' by Josef Albers, a text which the artist translated into Hungarian. Maurer was particularly influenced by Albers' study of how all colours are affected by their position within a colour spectrum and the proximity of one to another; an idea that underpins Maurer's paintings. Maurer has remarked that, through the process of their making, she was able to achieve many more colours than originally envisaged and thereby introduce unexpected tonal shifts. In the paintings Bíciniák 4 (2015) and Bicinies No 6 (2015), which relate colour to music and to harmony or disharmony, horizontal wooden planes of contrasting colour overlap or partly cross so that one layer can be seen through another. Creating the illusion of soft, transparent layers, they effect an immediate, dynamic change of colour perception and weightlessness of form.

In the 'Quod Libet' series, from which this exhibition takes its title, Maurer interprets conceptual rules with an increasing freedom. Based on details from the 'Displacement' series, in these works coloured rectangular outlines, like empty picture frames, shaped through perspectival distortion as if foreshortened, warped or folded back on themselves and overlaid, to create a heightened pictorial illusionism.

Maurer's most recent 'Stage' paintings liberate the planes of colour from each other, separating them out in space across the expanse of a wall. Accentuating the object as an agent of action, they exercise what Maurer terms the 'gymnastics of forms' and are inspired by the 'found geometry' of landscapes. Two new works from this series are featured in the exhibition – Stage 1 (2016–21) and Stage 5 (2021). Large in scale, featuring 4 and 6 primary-coloured rectangular panels respectively, they exist in three-dimensional space, floating, dancing or falling across the wall.