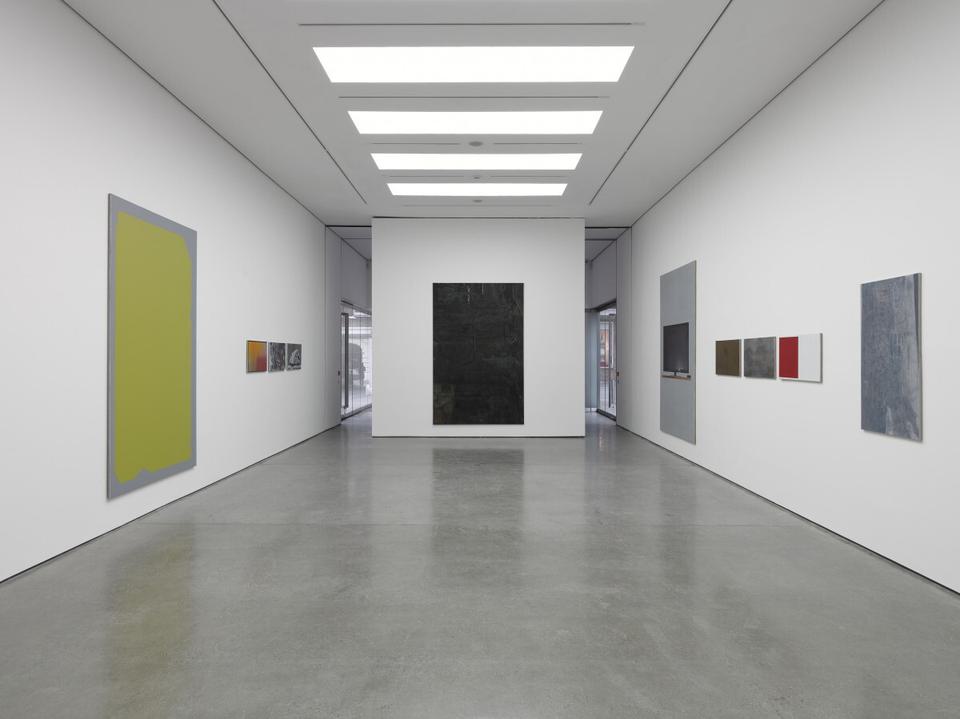 Dates
22 March – 11 May 2013
Location
25 – 26 Mason's Yard
London SW1Y 6BU

Havekost is known for both the playfulness and the conceptual rigour of his paintings, earning a reputation as one of the most accomplished and ambitious artists exploring the limits of figuration today.
'Cosmos Now' brought together a diverse body of paintings and is one of Havekost's largest solo exhibitions to date. For Havekost, anything that grabs the eye or mind is a legitimate subject for a painting. He derives his motifs from just about anywhere, not least press images and his own photographs of seemingly mundane scenes or objects. Even a sun-yellowed piece of paper or a flatscreen TV has a deadpan resonance for the artist. Through this restless and democratic set of images, Havekost examines what kind of information might be conveyed by a picture. There is little sense of space or depth in a Havekost painting: an image might have the dry clarity of a snapshot, while other surfaces might be mysteriously cloudy or occluded, still others appear to be dissolving into pure colour. Both the photo-realist and abstract paintings sit in sharp contrast to other pictures that feature - in a new technique for the artist - heavy impasto.

This restless deployment of techniques and ideas is best demonstrated in a series of multi-canvas works such as the two from which he derives the title of his show, 'Kosmos' (2011) and 'Jetzt' (2010) (Cosmos and Now). The largest canvas in 'Kosmos' depicts a dark TV screen: the most common medium for transmitting images today is here depicted as a clear, black and empty rectangle. The other canvases in the group are faint, painted in a kind of lavender grey as if redacted or covered in a dust. The combination of imagery in the ten canvases of 'Jetzt' is yet more peculiar and thought-provoking. On the left, a fragment of an alligator's head; on the right, a cloud of mottled purples and blues. Between, the same image - does it depict the sharply cropped head of a woman? - is repeated from a slightly different angle, while two other canvases appear to reveal no imagery at all in their thickly applied paint. Havekost frustrates and pleases in equal measure, asking how much visual information we need before a painting can be read as an image.
Placed high on the wall, 'Kosmos' and 'Jetzt' bring to mind the mystery of a multi-panel altarpiece or the flickering poetry of cinema. Instead of a narrative, however, Havekost asks how the different canvases affect each other. How does each image inflect the other as our eye passes from painting to painting? Do the abstractions suggest imagery or remain mute material, an accumulation of lumps and colours? In 'Spekulation, B12' (2012), we see what looks like the surface of a moon or asteroid, punctuated by a large black dot. Here certainty and perfection - the circle - seems to mask the image rather than open it up to our understanding.
This exhibition traveled in its entirety to join a larger body of work on the occasion of the major Eberhard Havekost solo exhibition at Museum Küppersmühle, Duisburg, Germany, 11 July - 20 October 2013.
Born and trained in Dresden, Eberhard Havekost lives and works in Berlin. He is professor of painting at the Kunstakademie Düsseldorf. He has exhibited widely in both solo and group exhibitions, including Museum der Moderne, Salzburg (2012); Staatliche Kunstsammlungen, Dresden (2011); Schirn Kunsthalle, Frankfurt (2010); FRAC Auvergne, Clermont-Ferrand (2008); Hayward Gallery, London (2007); Stedelijk Museum, Amsterdam (2006); Kunstmuseum, Wolfsburg (2006); Museum of Contemporary Art, Chicago (2005); Centre d'art Contemporain, Carjac (2003) and the Museum of Contemporary Art, Serralves, Porto (2001).