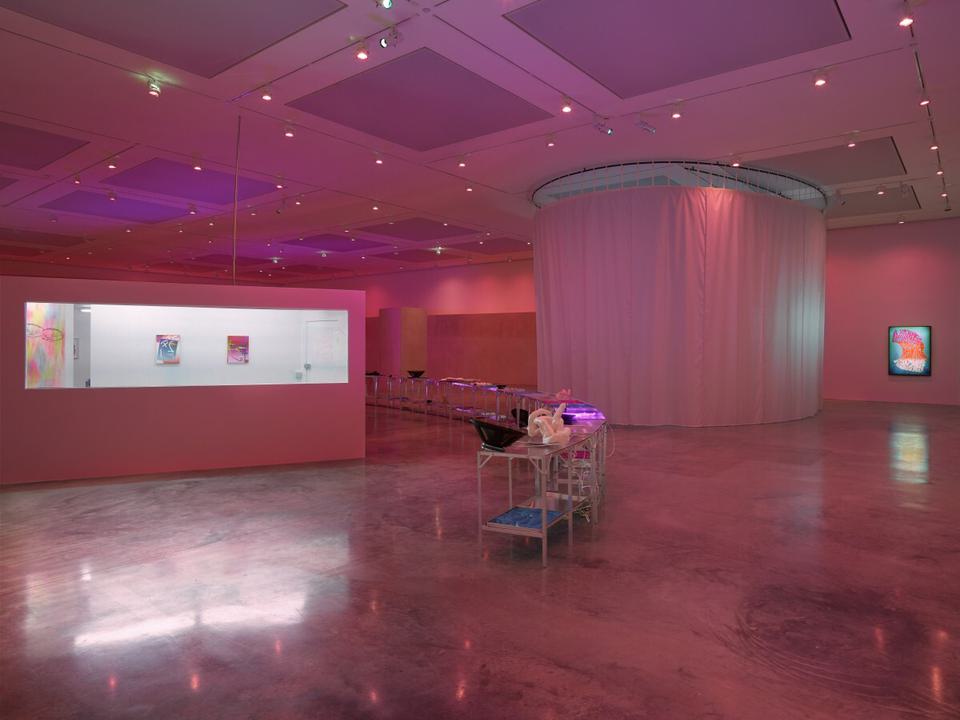 7 February – 8 April 2018
Dates
7 February – 8 April 2018
Location
144 – 152 Bermondsey Street
London SE1 3TQ

The works in this exhibition weave autobiographical elements and an examination of self-identity with more general themes of desire, the body, architecture and urban landscape. The title 'Concrete Pitch' was inspired by the bare, concrete recreation ground in Finsbury Park in London where Peake grew up, which was used as a playground, a sports field, a meeting place for people of every age, class and ethnicity and location for encounters and scenarios of all kinds. Peake has said: 'I used to treat things I did like graffiti and football and dance classes as not part of my art, then I had a sort of epiphany. I realised I want all those parts of my life in my art, and vice versa.' For Peake, whose work can be located within a history of painting and object-making as well as more recent narratives of dance and performance art, the gallery can also be considered a stage; a place to orchestrate dramas of the everyday and to present the rich associative portrait of his childhood neighbourhood as a microcosm of urban, multicultural society.
Peake will be present in the gallery space throughout the exhibition, following a scheduled daily routine. Moving between various constructed spaces which include a private office and a triangular cell-like structure, accessible only by a tall ladder, the artist 'plays' himself, both offering up and dismantling the narrative of artistic ego, fictional protagonist and 'real' self. In another specially constructed room, visible behind a window, DJs from Kool London broadcast an online radio show during the exhibition. Broadcasting oldskool jungle and drum and bass from East London tower blocks since 1991, Kool FM is one of the longest running underground stations and provided the soundtrack to Peake's adolescence.

The new, large-scale sound installation, Stroud Green Road runs through the gallery, consisting of a row of steel tables placed in a snaking line, just as the street of the same name runs through Peake's neighbourhood. On their tray-like surfaces is an array of objects: small-scale sculptures as well as an eclectic selection of items purchased from shops on Stroud Green Road and several small speakers which emit a low, deep register like a wavering vibration or rattle. Composed by the artist using distorted samples and field recordings from the local area, this abstract soundscape creates a continuously looping hum, while a soft pink light floods the exhibition space. Continuing the theme of revealing and concealing, an airy white curtain hangs full-length from the ceiling, creating a natural spiralling passageway, in the centre of which a split-screen projection shows four dancers, each locked in an individual, looping sequence of complex, choreographed movement. The notion of the loop, a key motif within Peake's work, is manifested in these repetitive movements, in the daily rituals the artist will be observing, in the sonic structure of the sound sculpture and in the music played by the Kool DJs. For Peake, these devices echo the entrapping loops of thought or behaviour associated with compulsion, obsession and depression.
In several new series of paintings, techniques of layering and masking are used to create vivid abstract compositions on canvas or hard, reflective stainless-steel panels. In one group, overlapping, spray-painted rectangles recall the urban patchwork of fly-posters, while in others, graffiti-like mark-making recedes into a bright void. This exploration of the void, whereby elements of the composition are left blank or undone creates works that reflect back to the viewer a sense ennui, even depression. In another group of oil on canvas works, a rainbow-coloured text defines the form of a head in profile spelling out the enigmatic slogans 'A More Uncomfortable And Realistic History', and 'We To The Ramp Go For Relinquish Unearned Privileges And Powers'.  Suggesting the direct, angry tone of graffiti, social media and urban music, these works are an expression of ideas that have formerly been implicit in Peake's work.