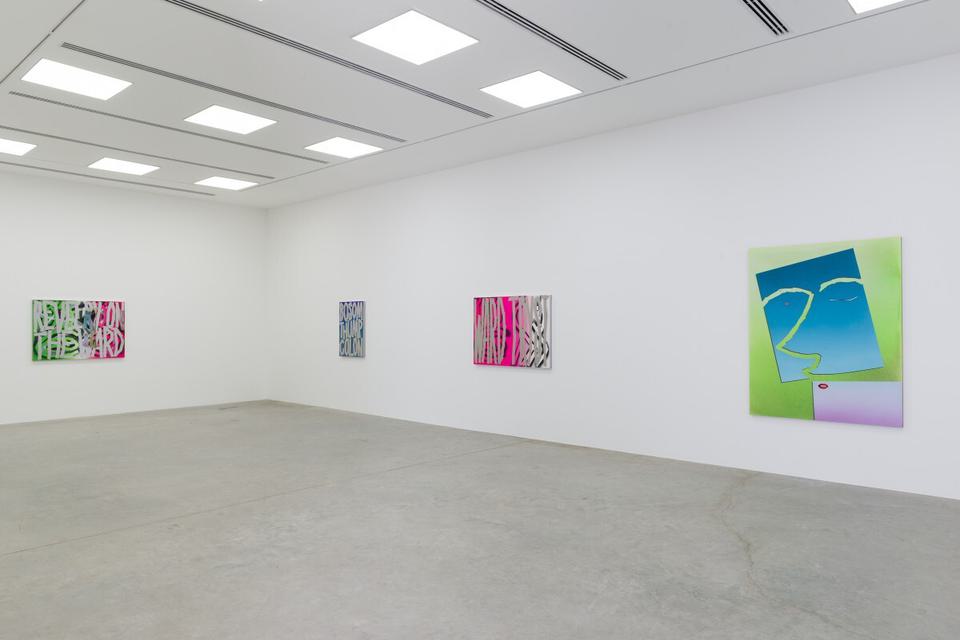 Eddie Peake
Caustic Community (Masks And Mirrors)
20 November 2013 – 8 February 2014
Dates
20 November 2013 – 8 February 2014
White Cube São Paulo presented an exhibition by British artist Eddie Peake following on from the artist's commissioned performance at Performa 13 in New York. This exhibition focused on Peake's painting practice, suggesting a dialogue between the artist's two series of paintings: the masks and mirrors. These works were presented alongside a new video, shot on location in New Mexico earlier in the year.
Peake gained early recognition in the UK for his performance Amidst A Sea Of Flailing High Heels And Cooking Utensils (2012), part one of which premiered at the opening of The Tanks, Tate Modern, London, followed by part two at the Chisenhale Gallery, London. In both of these highly charged performances, dancers painted with gold presented an erotic spectacle through a series of choreographed actions. Peake's paintings expand on this investigation of performance and language, as demonstrated in his Inside the White Cube exhibition where a group of mirror paintings were shown alongside Infinite Disparity (2013) a performance devised onsite and running throughout the duration of the show. For this exhibition, Peake's first in South America, he worked with acrylic and oil paintings on canvas, and lacquered spray paintings on polished steel. Just as the artist's performances explore figure in movement, these paintings explode with energy, their vibrant colour and mischievous texts signifying energetic and joyful abandon. Yet despite this, the works also suggest an undercurrent of disquiet or even anxiety. Through fractured surfaces, awkward forms and jagged lettering the paintings evoke the feeling that what is being seen is the result of a fragile mental state.

Peake's mask paintings are carefully rendered in acrylic and oil, in sharp contrast with the upbeat, almost frenetic tempo of the spray-painted text works. Through the image of the mask and the works' mirrored surfaces, which incorporate and reflects the viewer's image, he suggests a series of identities. This sense of disjuncture is intensified by the masks' eerie gaze which, like a cartoon portrait, appears to follow the viewer around the room. Redolent of the smiley face or emoticon, Peake's deployment of the aesthetics of youth culture calls into question the efficacy of contemporary modes of communication. Our expectations of meaning are further destabilised through the artist's occasional use of seemingly nonsensical titles which are in fact arrived at by reading the painting's texts from top to bottom rather than from left to right.
Peake's work eludes straightforward reading and aims to transcend and redefine normative categories of sexuality and gender. In his video, Ingests The Throat Wrenching Gravity Of (2013), a nude woman masturbates a desert landscape, the undulations of her body echoing those of the surrounding dunes. Enacting a series of specific, often suggestive gestures, she lays bare the culturally defined ways in which sexuality and gender are assigned to the body and calls into question the viewer's own voyeuristic impulses. The mirage effect of this figure in the desert is reminiscent of the mania threatened by the mask paintings' cartoon imagery. By suggesting that identity can be performed in this way rather than being a given, Peake opens up radical possibilities for the exploration of the self.
Born in London in 1981, Eddie Peake has lived in Jerusalem, Rome and London. Having graduated from the Slade School of Fine Art in 2006, he undertook a residency at the British School at Rome from 2008 to 2009 and in 2013 completed his Master's degree at the Royal Academy Schools, London. Recent performance projects in London include The David Roberts Art Foundation (2012), The Tanks, Tate Modern in conjunction with the Chisenhale Gallery (2012); The Royal Academy of Arts (2012) and Cell Project Space (2012). Solo exhibitions include Mihai Nicodim Gallery, Los Angeles (2011), Galleria Lorcan O'Neill, Rome (2012), Southard Reid, London (2012) (with Prem Sahib), Focal Point Gallery, Southend and Performa 13, New York (2013).