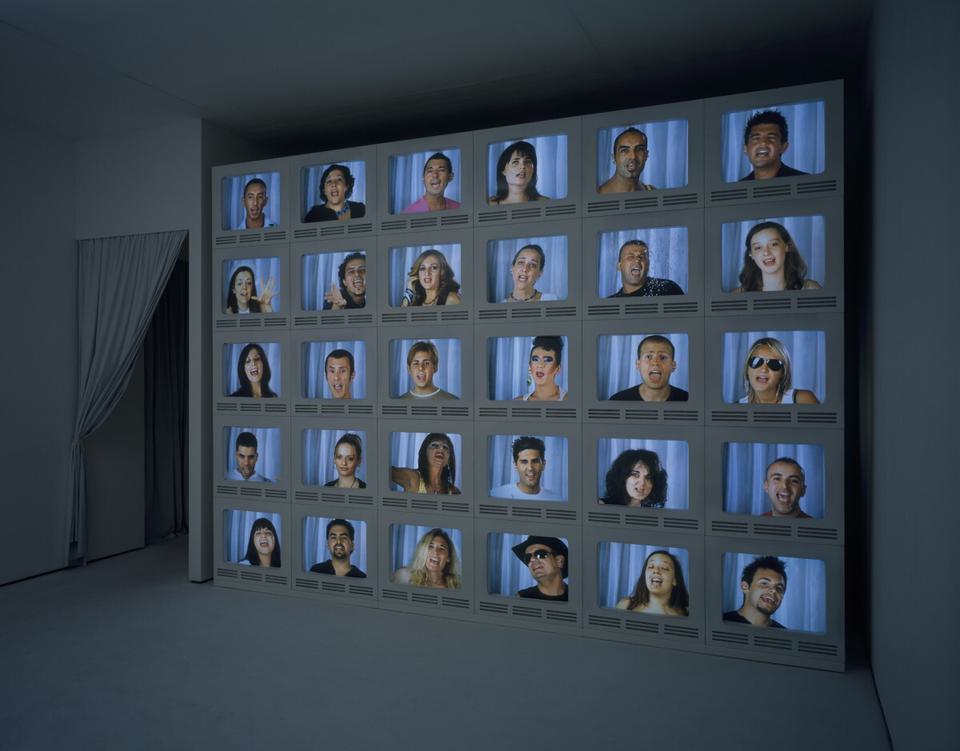 7 September – 10 August 2005
Dates
7 September – 10 August 2005
Pirate, composer and DJ, Candice Breitz uses darkly humorous, often subversive tactics to strike out at stereotypes and visual conventions in popular culture. Breitz's acclaimed two-part video installation Mother + Father was shown downstairs at White Cube Hoxton Square. In mirror sequences comprising six channels each, Breitz has edited iconic silver-screen mothers and fathers into shrill fugues of parental breakdown. In one, Faye Dunaway, Diane Keaton, Shirley MacLaine, Julia Roberts, Susan Sarandon and Meryl Streep protest and proclaim their respective maternal roles; in the second, Dustin Hoffman, Tony Danza, Harvey Keitel, Steve Martin, Donald Sutherland and Jon Voigt perform an entire spectrum of paternal frustrations. Digitally extracted from their original movie contexts, the cast members of Mother + Father are enlisted to perform new dramas of Breitz's making. The actors emerge from the artist's mixing-desk coerced into taut, abrasive compositions in which parenthood is an obvious analogy for the relationship between star and fan.
In the first floor gallery, Breitz presented a brand new thirty-channel video installation entitled Queen (A Portrait of Madonna). The third in a series of intended 'portraits' of the music that forms the soundtrack of her generation, here Breitz explores the influence of pop phenomenon Madonna. Individually filming thirty hardcore yet eclectic Italian Madonna fans (gathered via advertisements in newspapers and fan websites) singing their way through the greatest hits album Immaculate Collection , she assembles their heartfelt performances - shot in screen-test mode - into a choral grid in which moments of incidental harmony emerge from the general cacophony. A counterpart installation King (A Portrait of Michael Jackson) is being shown concurrently at Sonnabend Gallery in New York. This portrait series began with Legend (A Portrait of Bob Marley), commissioned by T-B A21, Vienna.

The juxtaposition of Mother + Father and Queen signals what Breitz has come to describe as the central dichotomy in her work, between the 'somebodies' (global idols) - whose images she pushes to breaking point - and the 'nobodies' (fans and consumers) - whose unabridged idolatry she allows to take over the screen.

In her earlier graphic work, Breitz took photographs and other visual fragments from popular media ( National Geographic , tabloids, porn magazines) and reworked them to create bold, disturbing images, provoking reflection on the race and gender clichés that continue to dominate and influence common knowledge.

Fascinated by the durational and performative dimensions of her chosen subject, Breitz progressed quite naturally into working with the moving image, using the fluid possibilities of do-it-yourself digital editing processes. She splices and remixes footage from Hollywood tearjerkers, soap operas and hit music videos, often severing the subject from its context, or vice-versa. The results are clever, critical, jarring psychodramas, compellingly staged as multi-channel video installations of varying complexity. An astute vivisector, Breitz's approach combines a linguistic and structural critique of consumerism with the enthusiasm of an adoring fan, such that viewers are prompted to probe their own ambivalent positions as fans and consumers of global popular culture.

Born in Johannesburg, Candice Breitz lives and works in Berlin. She has participated in many major exhibitions including the Johannesburg, São Paulo, Istanbul, Kwangju, Taipei and Venice Biennales. She has had solo exhibitions at the Centre d'Art Contemporain, Geneva; the New Museum of Contemporary Art, New York; FACT, Liverpool ; De Appel Foundation, Amsterdam; the Moderna Museet, Stockholm; Modern Art Oxford; and the Palais de Tokyo, Paris. Her recent exhibition at the Castello di Rivoli, Turin was accompanied by an eponymous publication.

The exhibition and its accompanying publication with an interview between the artist and White Cube curator Louise Neri, were produced in association with Sonnabend Gallery, New York and Galleria Francesca Kaufmann, Milan.