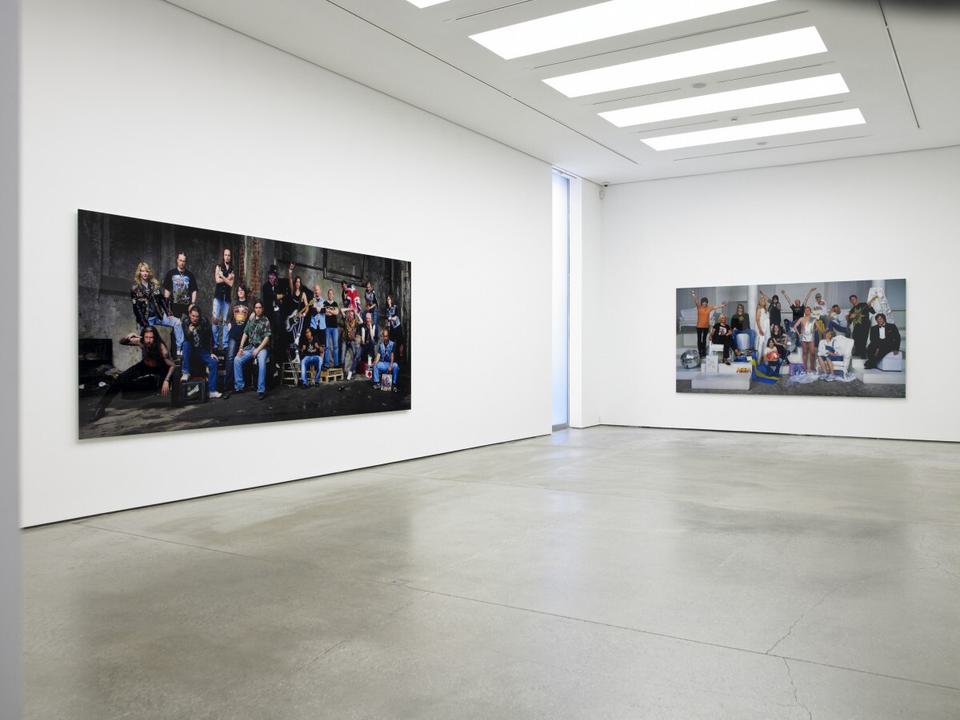 Dates
25 July – 28 August 2007
Location
25 – 26 Mason's Yard
London SW1Y 6BU

Breitz is best known for elaborate video installations that explore the impact of film and pop culture on contemporary consciousness, and especially how the music of a pop singer or rock group can become an ever-present soundtrack to a fan's life. In Breitz's series of multi-channel portraits of pop icons, the artist replaces the instantly recognisable faces – and sounds – of global stars with a constellation of portraits of fans. The first work in this series, 'Legend (A Portrait of Bob Marley)', depicts thirty Jamaican devotees of the reggae giant covering his posthumous album Legend, while 'King (A Portrait of Michael Jackson)' gives the stage to sixteen fans who sing and dance their way through Thriller. 'Queen (A Portrait of Madonna)' is an animated grid of thirty Italians performing their idol's Immaculate Collection. Each installation explores the extent to which fans are defined by the music that they consume, inhabiting their lives so deeply that the music and lyrics start to mould the fans' personalities. And yet Breitz also encourages participants to present themselves and to perform in their own way and without her direction, a process that allows each portrait to become a moving depiction of the uniqueness of each person within a group united by their passion.
The latest work in this series, 'Working Class Hero (A Portrait of John Lennon)', offers a poignant take on the pop portrait. This tribute to its namesake features 25 Lennon fans singing their way through his plangent solo record, Plastic Ono Band. While the fans are defined entirely by their devotion to Lennon, the portrait also captures the distinctive physical and emotional language of each person, highlighting how they sing the verses and choruses in a strange, almost otherworldly, harmony. The portrait is a remarkable look at the confluence of individual and group conduct: although we see an assemblage of undeniably unique personalities, the work also conveys a sense that this cluster of fans, collaged together by the music they share, has a shared identity that transcends their individual lives.

Breitz continues her anthropology of the fan with a series of billboard-sized photographs of music communities. The artist brought together groups of Marilyn Manson, Abba and Iron Maiden fans for three separate shoots that took place in Berlin during June 2007. Shot in collaboration with the photographer Marcus Gaab, these portraits, observes Breitz, 'investigate the relationship between a particular icon and a cross-section of people drawn from the community of fans who sustain that icon'. The group photographs draw on portrait conventions that we associate with the rich and powerful, but transfer these conventions to communities who usually remain invisible. Combining a diverse range of antecedents, from high-fashion photography and school portraits to old-master portraits of royal families, Breitz inverts the pageantry of these occasions, shifting the power and splendour to the lives of the humble fan.

Candice Breitz was born in 1972 in Johannesburg, and currently lives and works in Berlin. She has participated in many international exhibitions, including the Johannesburg, São Paulo, Istanbul, Kwangju, Taipei and Venice Biennales. She has had solo shows at De Appel Foundation, Amsterdam (2001), Moderna Museet, Stockholm (2004), Modern Art Oxford (2003); Castello di Rivoli, Turin (2005) and Palais de Tokyo, Paris (2005). Her survey exhibition 'Multiple Exposure' was at MUSAC, Leon, Spain, 20 January – 2 May 2007. Working Class Hero (A Portrait of John Lennon) was previously exhibited at the Baltic Centre for Contemporary Art, Gateshead and the BAWAG Foundation, Vienna.