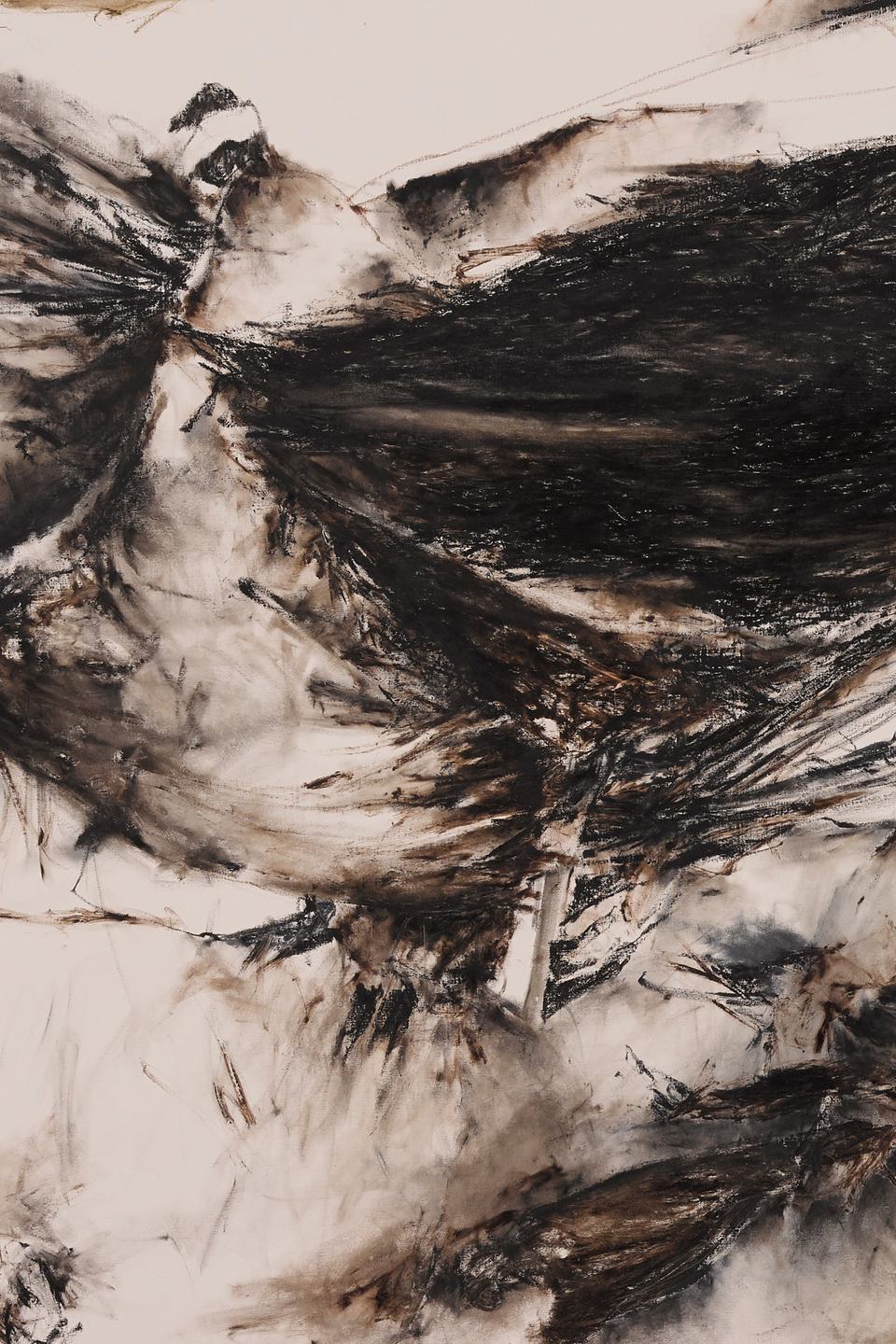 Black, kcalB, Black, kcalB
Christine Ay Tjoe
Black, kcalB, Black, kcalB
28 November 2018 – 20 January 2019
Dates
28 November 2018 – 20 January 2019
Location
144 – 152 Bermondsey Street
London SE1 3TQ

'I am creating a sort of anticipation in thought, a premonition that something could happen; the thought of how we might react to living with the potential darkness that is subconsciously growing within us. In this increasingly exposed world we live in, the ability to know and anticipate a state that is evolving within the self is more crucial than ever.'
Titled 'Black, kcalB, Black, kcalB', the exhibition explores the idea of darkness and features large-scale oil paintings and drawings on aluminium plates. 'The reality is that darkness is part of human nature' Ay Tjoe has said. 'If we create a distance between it and the self, treat it as something that can be calmed, made docile, be reshaped, freed yet part of ourselves, it is not just the enemy but an eternal life partner.'

Ay Tjoe's gestural practice, which includes painting, sculpture and installation as well as a number of printmaking mediums such as intaglio, woodcut and silkscreen, is rooted in an exploration of expressive line and the fundamental principles of drawing. In her new series of paintings, she addresses the duality of human existence and the dialogue between our inner and outer states, between idealism and existentialism. Discussing her work The Comrade (2017), for example, whose title alludes to the notion of a doppelgänger and to the binary emotions and character traits embedded within the human psyche, Ay Tjoe points to the eternal human struggle: 'How do we build a relationship with the dark potential that we have which is permanent and cannot escape?'.
Marking a departure from previous works since they are virtually monochromatic and punctuated only with small smudges of earthy colour, the paintings address the human potential for good and bad and the constant synergy between darkness and light. Employing a refined abstract language which combines both internal and external imagery – developed out of extensive drawing studies of the natural forms of plants and flora surrounding her studio in Bandung – they feature highly animated black strokes and lines, densely overlaid and clustered together to create dramatic and forceful compositions.

Connecting closely to the artist's particular interest in drypoint etching, where different pressures, thicknesses and applications are exploited for gestural effect, Ay Tjoe manipulates her 'dry' oil bar medium to create various emotive results: shadowy pools of dense black pigment, light washes of colour or delicate, wiry lines. Placed either centrally on the canvas or at its top or bottom edge, these accumulated masses of abstract lines suggest amorphous and organic forms which loosely resemble plant roots or tumbleweed, out of which fine tendrils emerge like hairline cracks that have spread from a point of force and then tail off, across and into the painting. Ay Tjoe leaves large areas of the canvas blank, allowing its smooth, pale surface to create a contrasting foil for the dark nucleus of gestural activity, confined and condensed therein. In several paintings, she extends or breaks the image across two connecting canvases, forming diptychs that suggest a forceful process of organic growth or a doubling that is held together by implied but imperfect symmetry.
In a second new series of works, Ay Tjoe returns to the medium of drypoint etching that she had focused on so intensely at the beginning of her career. Rather than showing their paper imprint, however, these works are the aluminium plates themselves, used as a material or ground for a series of explorative and expressive drawings created with lithographic crayons. Detailed and delicate, their balance of negative and positive space suggests a poised equilibrium, while their spider-like, tracery of fine lines is executed with a dramatic and free sensibility. 
Open and full of narrative potential, Ay Tjoe's new paintings and drawings reassert the idea of human imperfection, manifested through their spontaneity and layers of gesture, visibly embedded into the works' surface. 'Layers are like a container to keep all things which can be asserted towards an unknown future' she has said.
Installation Views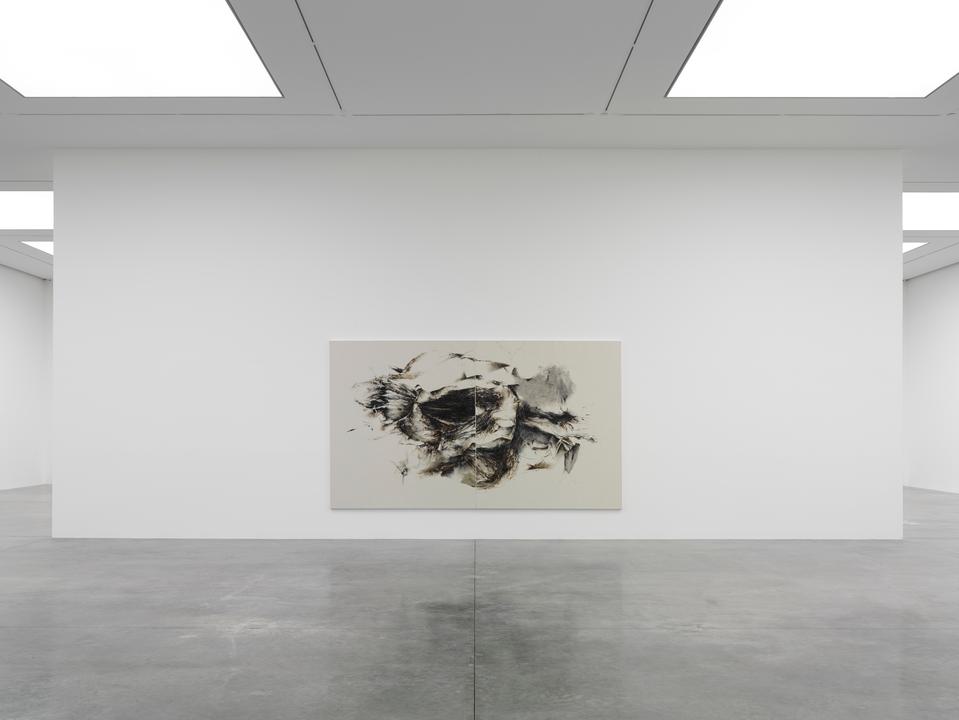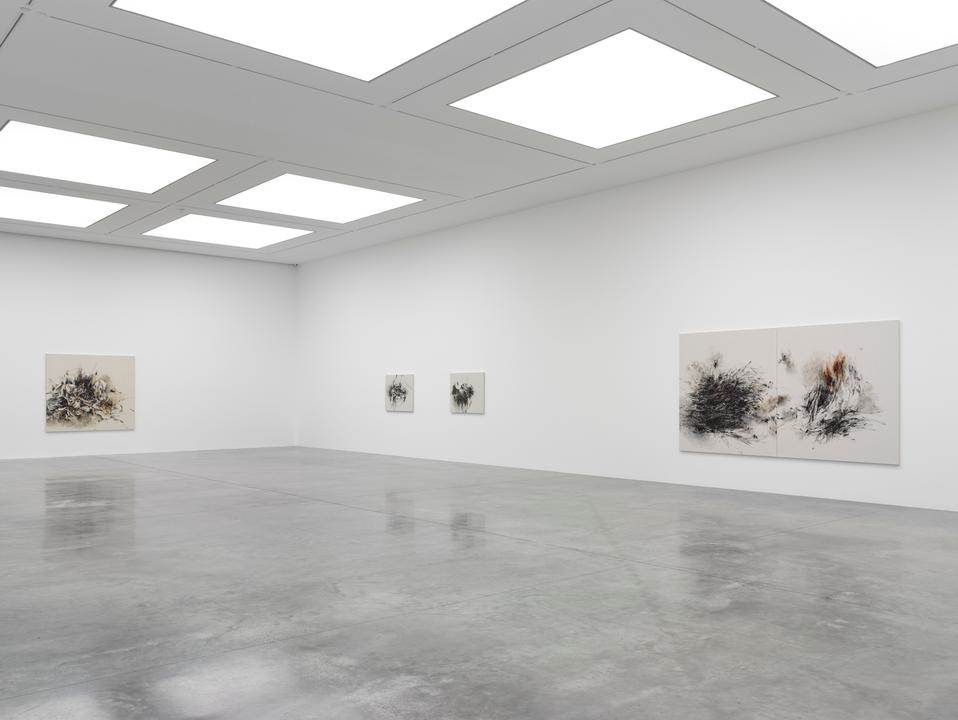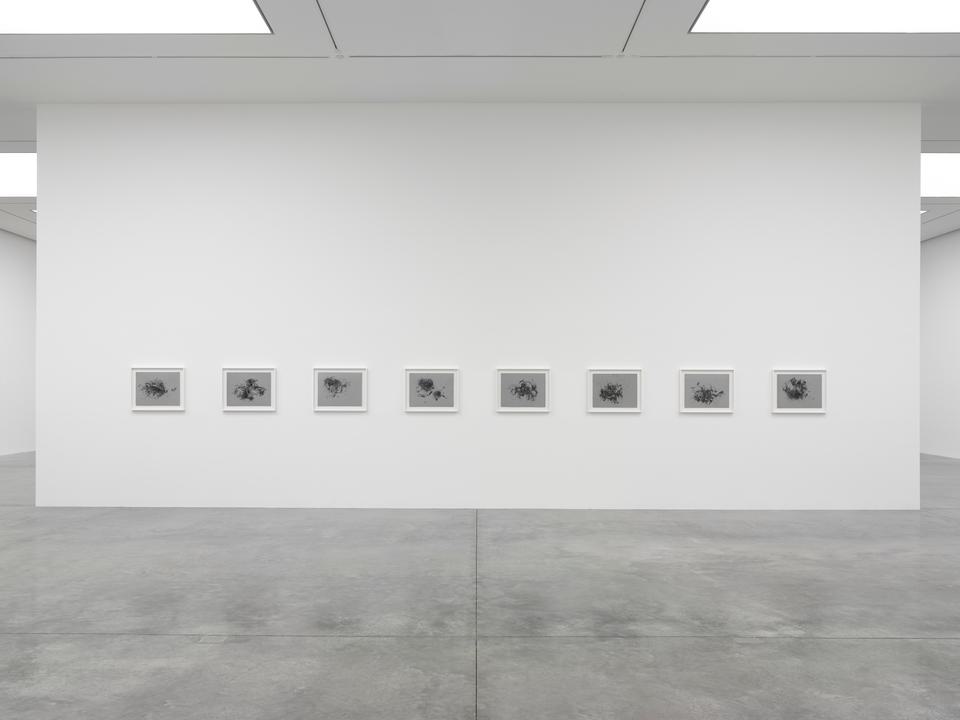 ---