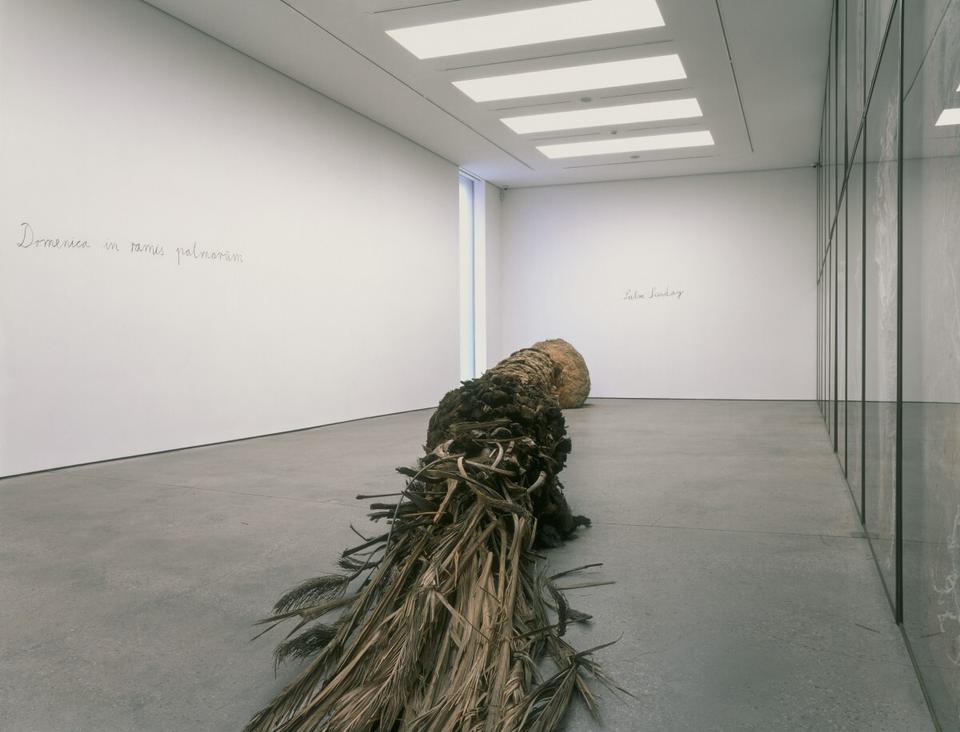 26 January – 17 March 2007
Dates
26 January – 17 March 2007
Location
25 – 26 Mason's Yard
London SW1Y 6BU

White Cube Mason's Yard presented a new body of work by the internationally acclaimed artist Anselm Kiefer. The exhibition was staged both at White Cube Mason's Yard and the Royal Academy of Arts.

The title of the exhibition, 'Aperiatur Terra', is a quotation from the Book of Isaiah, which translates as 'let the earth be opened' and continues 'and bud forth a saviour and let justice spring up at the same time'. These contrasting themes of destruction and re-creation, violent upheaval and spiritual renewal underpin much of Kiefer's work.
The focal point of the exhibition was Palmsonntag, an installation in the ground floor gallery comprised of eighteen paintings, hung as a single entity on one wall, with a thirteen-metre palm tree laid on the gallery floor. As its title suggests, the work evokes the beginning of Christ's journey into Jerusalem prior to his arrest, Passion, death and resurrection. The paintings read almost as the pages of a book opened to reveal multiple layers and narratives. As is common in Kiefer's practice, organic materials form the palette through which landscapes are created. These are then overlaid with texts which do not point to one single interpretation but rather suggest a rich, philosophically charged and resonant multiplicity of meaning and experience.

Palm Sunday has a pivotal place in Christian theology but has rarely formed the subject of major painting. It adds a further dimension to Kiefer's already diverse and complex range of sources in his art, which have included Teutonic mythology and history, alchemy, Greco-Roman mythology, ancient Gnosticism and Kabbalistic mysticism. In the lower gallery, three epic canvases were hung to create a single installation. Each is a vast panoramic landscape whose visceral surface appears strewn with flowers or perhaps on fire, at once apocalyptic and redemptive. References are made to the poetry of Victor Hugo, the fall of Troy, the Nazi campaign on the Russian front and to the prophet Isaiah amongst others, a range of sources that suggest an ongoing pattern of veneration, degeneration and renewal.
As an extension of the exhibition at Mason's Yard, the Royal Academy of Arts displayed two of Kiefer's monumental towers, entitled Jericho, for the first time in Britain. These five and six storey concrete constructions continue a series begun in the artist's extensive studio-without-walls in Barjac, Provence. To some, these 'twin towers' evoke the precariousness and the bombast of great Empires past and present; to others they read as a bridge between the earth and the heavens. In his catalogue essay for the exhibition, the Royal Academy's Exhibitions Secretary Sir Norman Rosenthal quotes from Walter Gropius and Bruno Taut: 'To build in fantasy, without regard for technical difficulties; to have the gift of imagination is more important than all technology, that always adopts itself to man's creative will today, a true architect really does not exist, all of us are only the forerunners of the one who will some time again deserve to be called architect, a name signifying Lord of Art, who will make gardens of the desert and will heap wonders to the sky.'
Anselm Kiefer was born in 1945 in Donaueschingen in Southern Germany. He has lived and worked in Barjac in the south of France since 1991. Kiefer is regarded as one of the most important and influential artists working today. Exhibitions of his painting, sculptures, drawings and installations have been staged extensively over the past four decades and his work is included in the world's most prestigious public and private collections.
A fully illustrated catalogue published by White Cube accompanies the exhibition, containing essays by Norman Rosenthal, Exhibitions Secretary of the Royal Academy of Arts, London, Anthony Bond, Curatorial Director at the Art Gallery of New South Wales, Sydney and Graham Howes, Emeritus Fellow of Trinity Hall, Cambridge.
Aperiatur terra travelled to the Art Gallery of New South Wales in Sydney, 19 May - 29 July 2007.