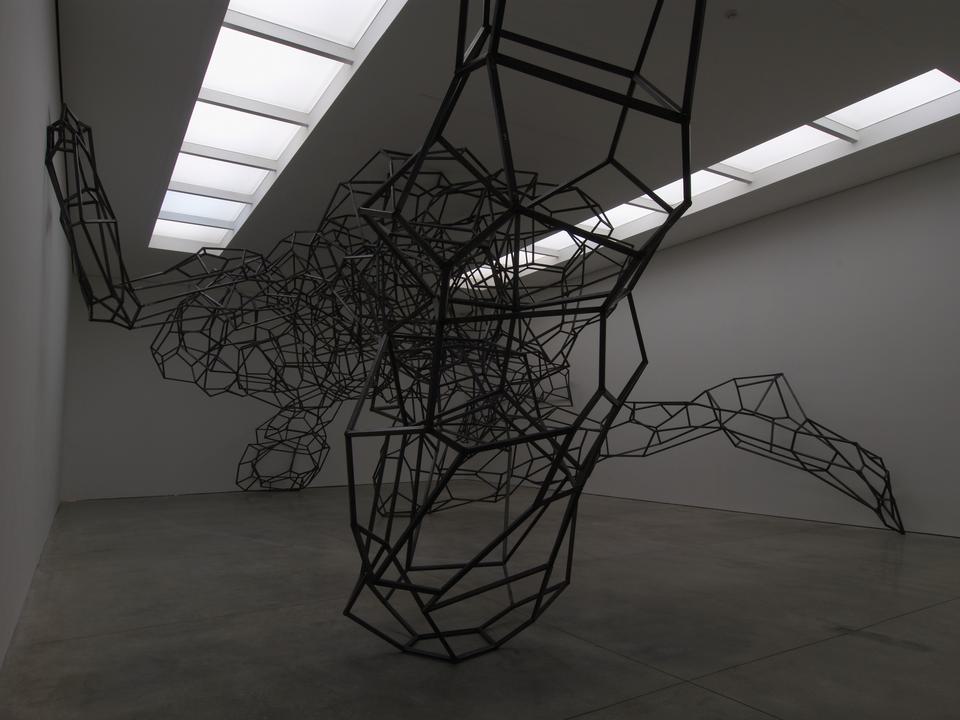 Dates
6 March – 12 April 2008
Location
25 – 26 Mason's Yard
London SW1Y 6BU

Following on from the success of his exhibition at The Hayward Gallery, London in 2007, Gormley created two substantial sculptural installations that test and respond to the architectural limits of the gallery spaces at White Cube Mason's Yard.
In the lower-ground gallery, Gormley installed a single 'expanded field' constructed from 1770 steel elements and 1019 steel balls, welded together to create a non-regular, polygonal structure whose form dissolved and resolved throughout the gallery. Pressed against the edges of the gallery space, the installation, entitled 'Firmament', brought to mind an assembled matrix of volumes that map a celestial constellation while also implying the form of a body that is lost within it. With its graphic outline, Firmament looms over the viewer, and at times feels claustrophobic, while at others it comes across as a landscape-like drawing in space. Gormley's work has always been about our sense of perception, testing what it feels like to experience our physical presence in certain conditions of time and space. In this installation, the viewer is asked to readjust, continually, their relationship to the field as they navigate through it. The work was developed with Tristan Simmonds of the Advanced Geometry Unit at Arup, and it builds upon the collaboration that began with Space Station, which was shown at The Hayward Gallery.

On the ground-floor gallery, Gormley activated the space with 32 solid-iron body forms that chronicle six moments of physical endurance. The works were placed throughout the space on floors, walls and ceiling. 'Lost Horizon' is an internalised form of 'Event Horizon', his celebrated installation over the rooftops of central London, but here the installation formed a concentrated, haptic field that acts directly on the body of the viewer. Like 'Critical Mass', which Gormley has reconfigured and assembled in many different architectural environments, 'Lost Horizon' is a temporary infection of a given site, with the potential to activate other spaces in the future.
Antony Gormley was born in 1950 in London, England, where he lives and works. He has participated in major group exhibitions, including the Venice Biennale (1982 and 1986), Documenta VIII, Kassel, Germany (1987) and the Sydney Biennale (2006). Solo exhibitions include The Hayward, London (2007), ICA, Singapore (2005), Fundacao Calouste Gulbenkian, Lisbon (2004), Baltic Centre for Contemporary Art, Gateshead, England (2003), and the National History Museum, Beijing, China (2003). He was awarded the Turner Prize in 1994.
Installation Views