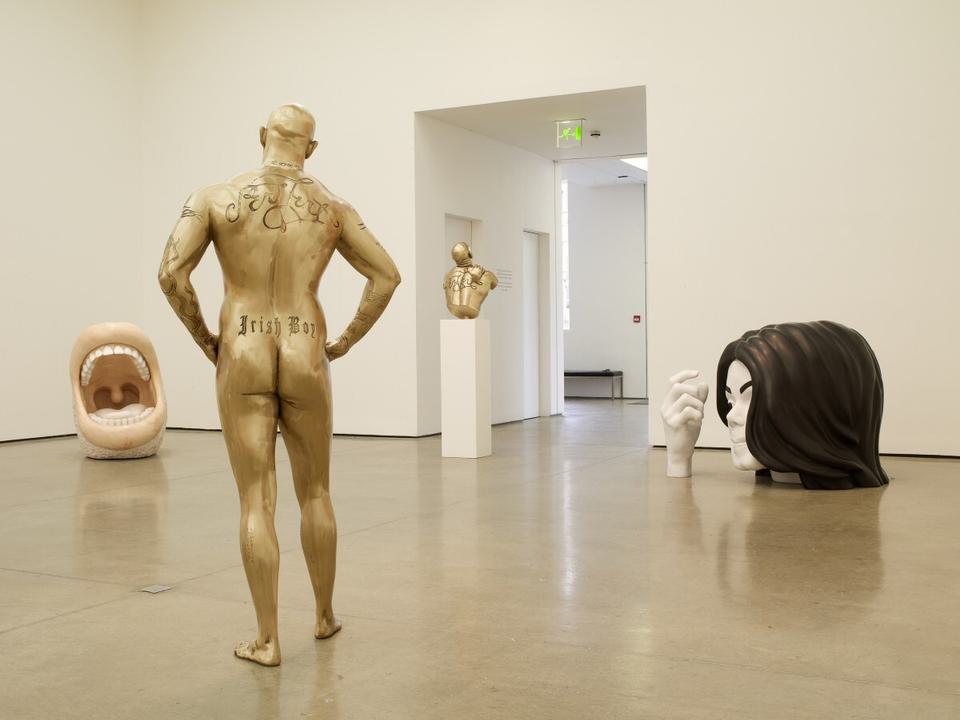 Marc Quinn
Allanah, Buck, Catman, Chelsea, Michael, Pamela and Thomas
7 May – 3 July 2010
Dates
7 May – 3 July 2010
White Cube Hoxton Square presents a new body of work by British artist Marc Quinn. Entitled Allanah, Buck, Catman, Chelsea, Michael, Pamela and Thomas, the exhibition brought together new sculptures executed in marble, bronze and silver, depicting people who have undergone extreme levels of plastic surgery and transformation including hormone therapy, tattoos, piercing, skin bleaching, hair dying as well as implants and transplants.
Quinn has always been interested in the public's obsession with the body, its perfections and flaws, and how this obsession has led some people to alter their bodies in increasingly extreme ways. 'The Complete Marbles' series was an investigation of 'imperfect' bodies, and in 'Evolution', he examined the point when one's physical identity begins to emerge. Quinn's new sculptures, as Joachim Pissarro has noted in his catalogue essay to accompany the exhibition, are portraits of people who 'exemplify a disconnect between body and soul' and who 'open up a provocative new chapter in [Quinn's] exploration of the relationship between corporeality and spirituality - fundamentally addressing the notion of identity by asking: is one more or less one's self after cosmetic surgery?'

Quinn's new models range from characters such as the tabloid favourite 'Catman' (Dennis Avner, who has been tattooed to look like a cat) and 'the pregnant man' (Thomas Beatie) to niche porn stars such as Buck, a 'man with a pussy', and Allanah Starr, a man who has changed her body into the idealisation of femininity even though she also has a penis. Although all modelled from life, these bodies seem to exist beyond the normal boundaries of classification - appearing almost 'trans-gender', or 'trans-corporeal' - throwing the very notion of identity into question, exposing it as a fragile, complex and multi-layered construction, interminably co-existent with their external physical selves.
Quinn's portrait sculpture 'Buck & Allanah' depicts the couple standing hand in hand, like a latter day Adam and Eve, striding out into their future as radically altered beings. The sculpture of Thomas Beatie depicts him at full-term pregnancy, shyly bowing his head and cradling his stomach with two hands, appearing like a masculine Virgin Mary, displaying some kind of miraculous conception.
Quinn also made sculptures of celebrities. Pamela Anderson is depicted in polished bronze, doubled at the shoulder with an identical alter ego, as if part of a conjoined twin, her face staring at the ceiling in a state of ecstasy. Two large heads of Michael Jackson are carved out of black, white and red marble. The two sculptures work in dialectical opposition - depicting Jackson as he is most well known after numerous surgical interventions, one with a black face, the other white.
The exhibition also included a new series of flower paintings executed in reversed colour and two huge orchid sculptures in white painted bronze, installed in Hoxton Square, opposite the gallery.
Marc Quinn has exhibited in many group exhibitions internationally including Sonsbeek '93, Arnhem (1993), Give and Take, V&A, London (2001), Statements 7, 50th Venice Biennale (2003) and Gwangju Biennale (2004). Solo exhibitions include Tate Gallery, London (1995), Kunstverein Hannover (1999), Fondazione Prada, Milan (2000), Tate Liverpool (2002), Irish Museum of Modern Art, Dublin (2004), Groninger Museum, Groningen (2006) and MACRO, Rome (2006), DHC/ART Fondation pour l'art contemporain, Montréal (2007) and Fondation Beyeler, Basel (2009).
A fully illustrated catalogue with a text by Joachim Pissarro accompanied the exhibition.