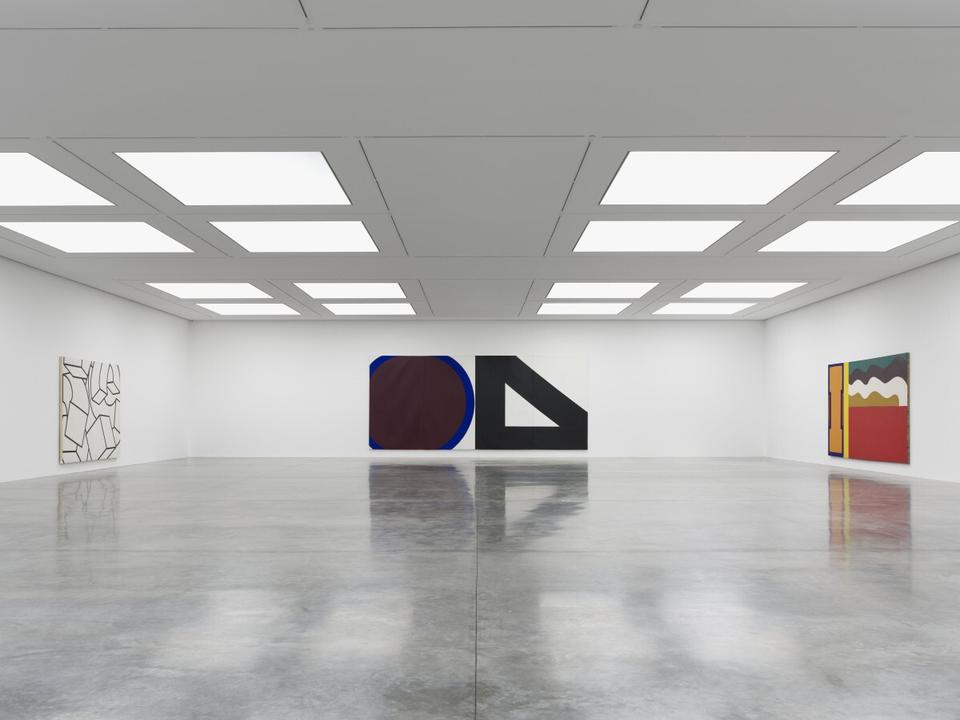 The Sixties
20 November 2020 – 27 February 2021
Dates
20 November 2020 – 27 February 2021
Location
144 – 152 Bermondsey Street
London SE1 3TQ

Focusing on paintings made in New York during the 1960s, the selection includes key works which exemplify Al Held's (1928−2005) unique exploration of hard-edge geometric abstraction. Featuring large-scale paintings and works on paper, the exhibition reveals the artist's dedication to developing his own distinctive graphic language. As the poet Frank O'Hara saw it, Held was 'one of the most controversial and powerful painters' working in New York at that time.
The Sixties were a decade synonymous with an explosion of new styles and ideas aimed at expanding consciousness and bridging the gap between aesthetics and technology. During this period, Held became widely recognised for his individual approach to abstraction, leading fellow painter Alex Katz to comment of his 1960s works: 'Some of them are as good as anything painted on the planet at that time.' Held's rigorous exploration of hard-edge geometry to distil the decade's tumult into elemental forms and relationships resulted in two of his most well-known bodies of work: the 'Alphabet' paintings (1961–67) and the 'Black and White' paintings (1967–78).
'Al Held: The Sixties' presents five of the colourful 'Alphabet' paintings, including the monumental 8-metre wide Circle and Triangle (1964) and three spatially complex 'Black and White' paintings. In the 'Alphabet' series Held focused on the reduction of linear forms using monumental graphic letters whose contours are often pushed to the outer limits of the composition. Positive and negative space become equally important, lending the paintings a flattened but illusionistic depth of field. In The "I" (1965), for example, the letter form of a capitalised 'I' seems at first almost indiscernible; a field of black bordered on each side by negative space, defined as two small slices of white. Countless coats of acrylic paint record Held's attempt to heighten the emotional impact of his shapes, endowing them with texture, personality and an intense physicality. By 1963, the 'Alphabet' series had expanded from the strict use of letter forms to encompass a panoply of hard-edged images that were found or invented. Shapes like circles or squares are enlarged and transformed into monumental forms, painted with delicate nuance. A reduction of both form and colour enabled Held to focus on scale as a conceptual element, resulting in pictures that were enlarged to an epic scale while still maintaining a profoundly human sense of proportion.
Held began making his 'Black and White' paintings in 1967 and continued the series over the course of the next 12 years. Rejecting colour, he departed from a key tenet of modernist painting: Clement Greenberg's dictate that avant-garde painting must appear flat. Held's bold expansion of volumetric depth as a means to build more complex visual structures created a paradigmatic shift, garnering both critical acclaim and outright rejection when they were first publicly exhibited in New York in 1968. Orthodox modernist critics deemed him an apostate, while a younger generation of artists immediately recognised the new possibilities offered by these paintings. Formulated through a process of what Robert Storr has termed 'exquisite addition and subtraction, phrasing and rephrasing', they link back to Abstract Expressionism and, in particular to the black and white paintings of Jackson Pollock and Willem de Kooning. For the first time Held began to articulate theories relating to perspective to underpin his invention of a dynamic picture plane, which was itself an attempt to encompass the inherent contradictions of the contemporary world.
Over the course of the 1960s, Held increasingly rejected modernist ideologies in favour of a more expansive postmodernist practice. A natural contrarian who was passionate and pugnacious, his thoughts left their mark in a wide range of fields, from discourses around art and public space to the work of his graduate students at Yale School of Art. While Held's restless intellect continued to take his art on new and unexpected paths, it was in the Sixties that he achieved international acclaim. His efforts to marry the optical impact of Pop and the phenomenological effects of Minimalism led him to invent a provocative and keenly physical form of painting, as highlighted by the selection of works in this exhibition.
Al Held was born in Brooklyn in 1928 and died in Todi, Italy in 2005. He exhibited extensively throughout his career including solo exhibitions at Stedelijk Museum, Amsterdam (1966); San Francisco Museum of Modern Art and Corcoran Gallery of Art, Washington DC (1968); ICA, Philadelphia (1968); Contemporary Arts Museum, Houston (1969); Whitney Museum of American Art, New York (1974); and ICA, Boston (1978). He produced major public artworks in cities around USA including Philadelphia, Washington DC, New York and Orlando. Held's work features in many museums and public collections including those of the Metropolitan Museum of Art, New York; Museum of Modern Art, New York; National Gallery of Art, Washington DC; Neunationalgalerie, Berlin and Kunstmuseum, Basel.