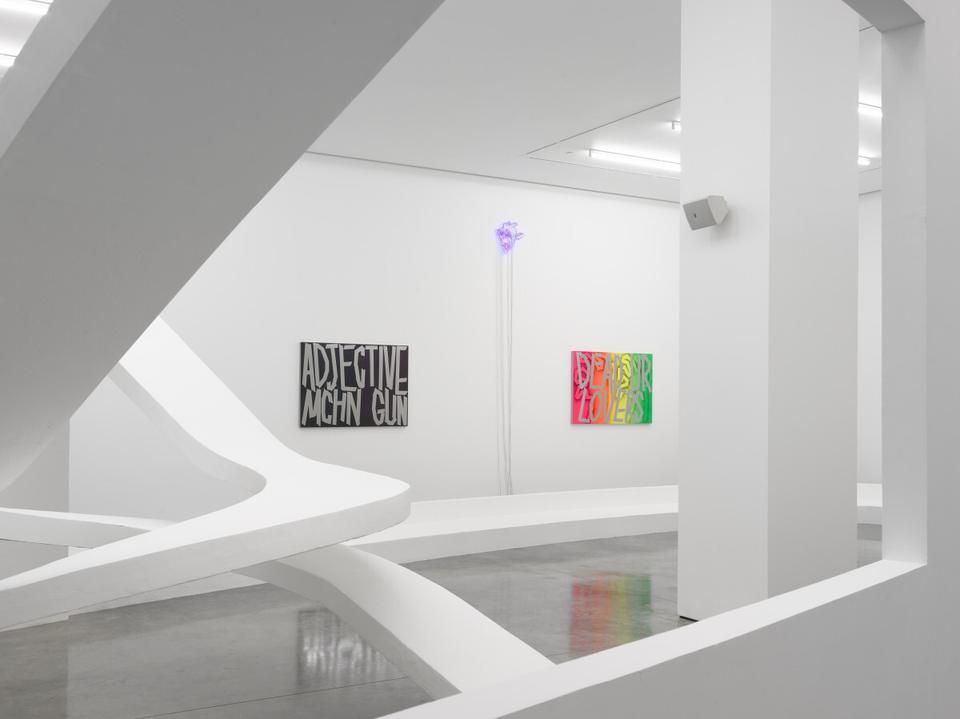 Inside the White Cube
6 March – 21 April 2013
Dates
6 March – 21 April 2013
Location
144 – 152 Bermondsey Street
London SE1 3TQ

To date, Eddie Peake has established a multi-faceted and energetic practice that manifests itself through a wide variety of media including photography, painting, neon sculpture and performance. Exploring the realms of voyeurism, sexuality and gender, Peake is a bold interventionist, attracting his audience's attention by adopting a variety of cultural references, pop motifs, anarchic humour and spectacle.
For Inside the White Cube, Peake created his first major sculptural installation, closely modelled on the now decommissioned penguin pool at ZSL London Zoo, an iconic modernist structure designed by architect Berthold Lubetkin in 1934. The structure acted as an amphitheatre or arena in which Peake, working with a group of dancers and musicians, publicly developed a performance over the course of the exhibition.

Peake described the exhibition as 'the first occasion that I will present a performance work in tandem with static object works, the two elements having thus far remained physically separate. I want to focus on the process of devising a dramatic performance work, and the weirdness implicit in trying to do that in the context of an art gallery.'
The performances extended to the outer areas of the structure where a number of Peake's artworks have been installed. A variety of text messages, slogans or, at times, despairing tag lines, such as Crushingly Hopeless, Haywire Spine Flwr or Dead Ur Lovers emerge through diffused layers of powder coating and spray paint from polished stainless steel sheets. This use of language continues in a series of poster/panel compositions which feature black and white photographs of a naked couple overlaid with a series of vibrantly painted panels spelling out single words or phrases that teasingly enhance the tangibly erotic subject matter.
The exhibition also included a group of abstract sculptures in concrete and highly polished off-white plaster which suggest limbs or bones. A series of neon sculptures, including The Baddest Badman (2013), introduces the character of a muscular faun who is to become a recurring persona in the artist's work, changing and evolving over time.
A catalogue, with texts by Roger Cook and Clover Peake, was published to accompany the exhibition.