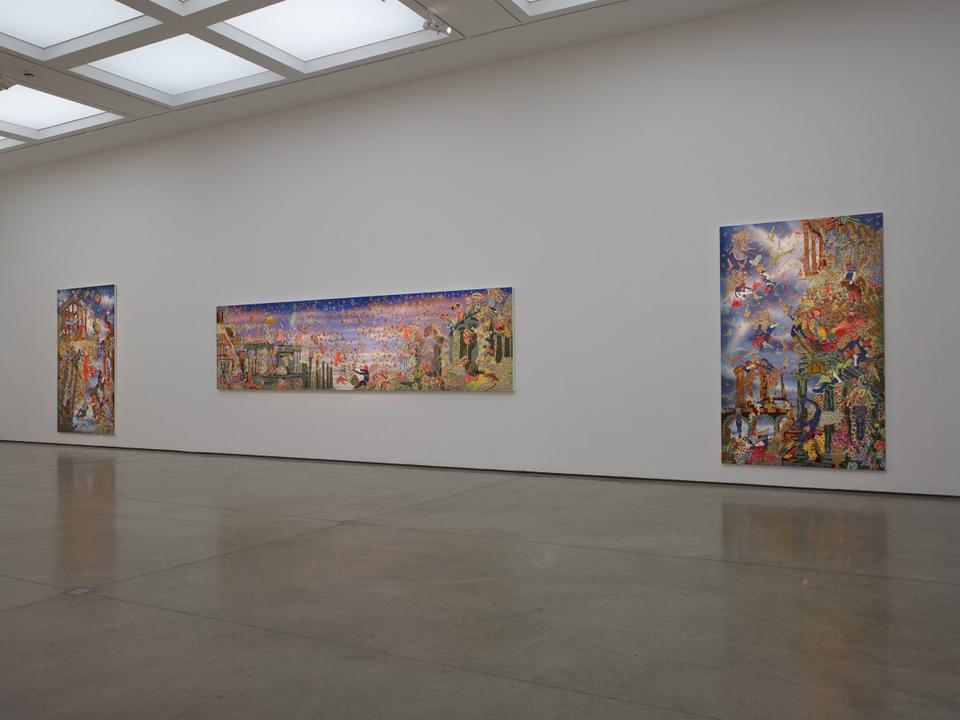 Dates
20 May – 4 July 2009
'Absence of God', was the artist's first exhibition at the gallery. In the ground floor of White Cube Hoxton Square Shaw exhibited seven spectacular paintings, including his largest to date, measuring over 7m wide. The first-floor gallery was dedicated to Adam, his first large-scale sculptural installation.
Raqib Shaw grew up in the Kashmir Valley, a region that is as rich in spiritual traditions as it is in natural beauty, although he has never himself followed a religion. Once a stronghold of Buddhism, the valley is now a predominantly Muslim region. Despite growing up in a Muslim family, Shaw went to a Christian school where he was taught by Hindu scholars. This diverse range of cultures, and the stories and myths associated with each, stirred in the artist a curiosity about different traditions, and eventually drew him to London to study fine art at Central St Martins. In London, Shaw encountered at first hand many masterpieces of western art history including Holbein's portraits, Cranach's Eden and Francis Bacon's expressionism, influences that added to his own wide range of interests, from Japanese Manga to Rimbaud, and from Persian miniatures to Mogul jewellery. His first series of paintings, entitled 'Garden of Earthly Delights', paid homage to the proto-surreal vision of Hieronymus Bosch.

Set against a backdrop of classical ruins, the paintings in the 'Absence of God' series are framed within architectural spaces inspired by the Italian artist Giovanni Battista Piranesi's depiction of ancient Rome. The densely composed scenes are populated by anthropomorphous creatures, as well as deep blue, Krishna-like figures engaged in fraught, sexual combat. Winged warriors simultaneously perform acts of bondage, flagellation and ritual disembowelment while showers of screaming hominid faces explode mid-air and regal monkeys survey, from under their parasols, a mutant striving to catch flocks of glittering butterflies with its broken net.
Working with metallic industrial paints, Shaw pools his vivid hues and manipulates them with a slender porcupine quill to create a marbling and fluid effect. Every minute detail in the composition is outlined in gold, rather like cloisonné or filigree metalwork. Abundant with flora, fauna and feathered plumes, Shaw further adorns swords, chains, crowns, and eyes with glitter and gemstones, accentuating his vision of excess and the sublime.
Hung like an altarpiece, at the far end of the gallery, Absence of God III...And His Tears of Blood Will Drown the Cities of Men comprises two panels that mirror the organ doors Holbein painted in Basel Cathedral. Shaw's monstrous evocations of Holbein's Erasmus portraits sit at each side of the entrance, while skeletons jubilantly stage a Dance of Death amidst the flowing hair of the central guardian deity in Absence of God VI, a creature inspired by the Samuel Taylor Coleridge poem Kubla Khan: 'Beware! Beware! His flashing eyes, his floating hair! Weave a circle round him thrice, And close your eyes with holy dread, For he on honey-dew hath fed, And drunk the milk of Paradise.'
The sculpture Adam features the artist himself cast as a human figure, but with a bird's head, its beak gaping with hunger or desire. With his limbs frozen in a spasm of pain or ecstasy and his head swarming with parasites, a large, bejewelled lobster – a nod to Dali's iconic Lobster Telephone – mounts this figure. Adam represents the fall of man, here reflected in a bubbling oil spill, a catalyst of modern-day wealth, vanity and wars.
A fully illustrated catalogue with a text by Homi K. Bhabha accompanied this exhibition. It was co-produced with the Kunsthalle Vienna, where the exhibition toured to in August 2009.
Born in Kashmir, Raqib Shaw left India in 1998 for London where he studied for both his BA and MA at Central St Martins School of Art. Shaw has exhibited internationally, including the group shows 'Without Boundary', Museum of Modern Art, New York (2006); 'Around the world in Eighty Days', Institute of Contemporary Arts, London (2006); '6th Gwangju Biennale', South Korea (2006); with solo exhibitions at 'Art Now', Tate Britain (2006) and the Metropolitan Museum, New York (2009).