A.R. Penck, Paintings 1974–1990
Dates
9 March – 14 April 2022
Location
25 – 26 Mason's Yard
London SW1Y 6BU

'The way I work is contradictory in that there are a number of tendencies in operation, the logical as well as its opposite. It is a slow shifting of different stages of decision making, so that the whole system of reference is changing.'
White Cube Mason's Yard is pleased to present an exhibition of paintings by A.R. Penck (1939–2017), a visionary polymath whose approach to European painting was both radical and singular. Often associated with the leading German artists of his time, including Georg Baselitz and Anselm Kiefer, Penck's work was equally distinctive and innovative. Featuring works from the mid-1970s up to 1990, the exhibition focuses on a particularly fertile and significant decade and a half in the artist's 50-year career.
Born in Dresden in 1939 as Ralf Winkler, Penck's early years were marred by tragedy, including the bombing of his hometown in 1945 during the late stages of World War II. Despite multiple unsuccessful applications to art academies in Dresden and East Berlin, Penck, a tenacious autodidact, pursued a wide range of art forms at the margins of the establishment until his defection to West Germany in 1980. Asserting that from this moment onwards his work became 'simpler and clearer', Penck's paintings from the 1980s are characterised by their large formats, bold colours and simplified forms.

One of the early works in the exhibition, Y (1978) features a sparse composition comprised of a single central figure and other simplified forms in fresh green, set against a solid white ground. While the artist adopted his pseudonym A.R. Penck in 1968 – with reference to Albrecht Penck, an expert in geomorphology, climatology and the Ice Ages – he also occasionally signed his work with the letter 'y'. Driven by a desire to create a universal visual language that could address contemporary society, Penck was developing what he termed symbolschrift (symbol writing) – a 'building block system' involving a glossary of lyrical motifs that would act as the lexical foundation of his profoundly dynamic compositions.

Originating in the 'Weltbilder' from 1961, many paintings in the exhibition feature a two-dimensional stick figure, a kind of iconographic 'everyman'. In Soldiers Vision (1989), the subject of conflict is foregrounded through the planar flattening of different perspectives and jostling, black shapes. Set against an uninflected, steely ground, Penck's vision is vividly suggestive of war, the mass of shapes appearing to emanate from a central stick figure whose limbs are shown splayed. Similarly, Übergang (1981) and Standart-West KR4 (1982), both painted shortly after his move to the West, are brooding monochromatic canvases pervaded with a strong sense of angst, as evinced by their chaotic eruption of marks and forms. These dense scenes of palpable unrest reflect the tumult of history as it intersected with Penck's biography: of the Allied firebombing of Dresden, of the divide of Germany and of the violent disquiet of the Cold War that followed. 'As I get older I realise the necessity to destroy certain things, even within oneself. […] Aggression is thus transformed in my paintings into a symbol which releases a different kind of power that changes the whole process once again,' the artist has said.

Penck's work from the 1980s onwards reflects a frenetic time in the artist's life. Against a backdrop of mounting political pressure, Penck would befriend Joseph Beuys in West Germany, move to London, and meet Jean-Michel Basquiat in New York. Through this period, free jazz becomes increasingly important to Penck, the spontaneity and energy of which is tangible in the stylish sprawl of glyphs in Standart West London 1 (1983), a vibrant multi-layered work, its arrangement revealing a strong rhythmic propensity. By the mid-1980s, the artist was involved in numerous recordings with his jazz band Triple Trip Touch for whom he played the drums. He doubtless shared strong musical affinities with Basquiat, and the artists would go on to forge a close relationship of respect and artistic exchange, the impact of which is notable in works such as the amber Untitled (1989), and the vermillion Untitled (c.1990).

A painter and also an illustrator, sculptor, printmaker, Super 8 filmmaker, musician and writer, Penck drew liberally from subjects as broad ranging as philosophy, natural science, systems theory, science fiction and technology. Though his work is reminiscent of early art and prehistoric cave paintings, Penck was resolutely a man of his time who strove to invoke the trials and tribulations of his own century as much as any other. Suffused with a sense of mystery – both the pseudonymous figure as well as his work in general – the codification may point to a fascination with hieroglyphics and cybernetics, but equally the meaningless tangle of scrawled graffiti which characterised the Berlin Wall. The ensuing hybrid aesthetic, which he termed Standart – a portmanteau of 'standard' as in system, with 'art' – was Penck's attempt to create an accessible and timeless system of signs, to transcend cultural borders and broach fundamental truths.
Installation views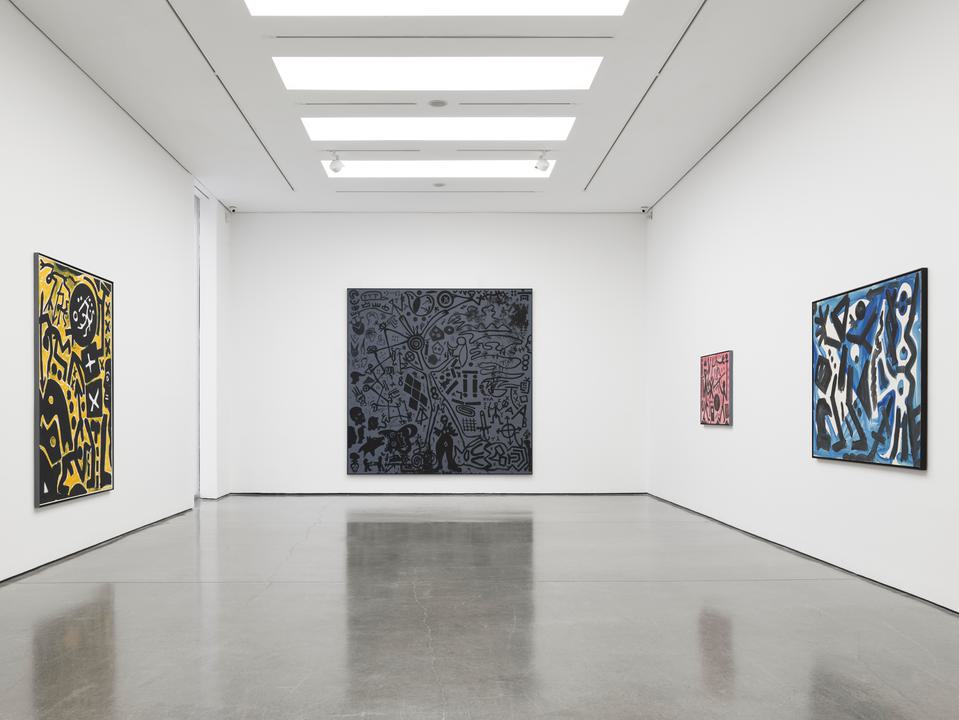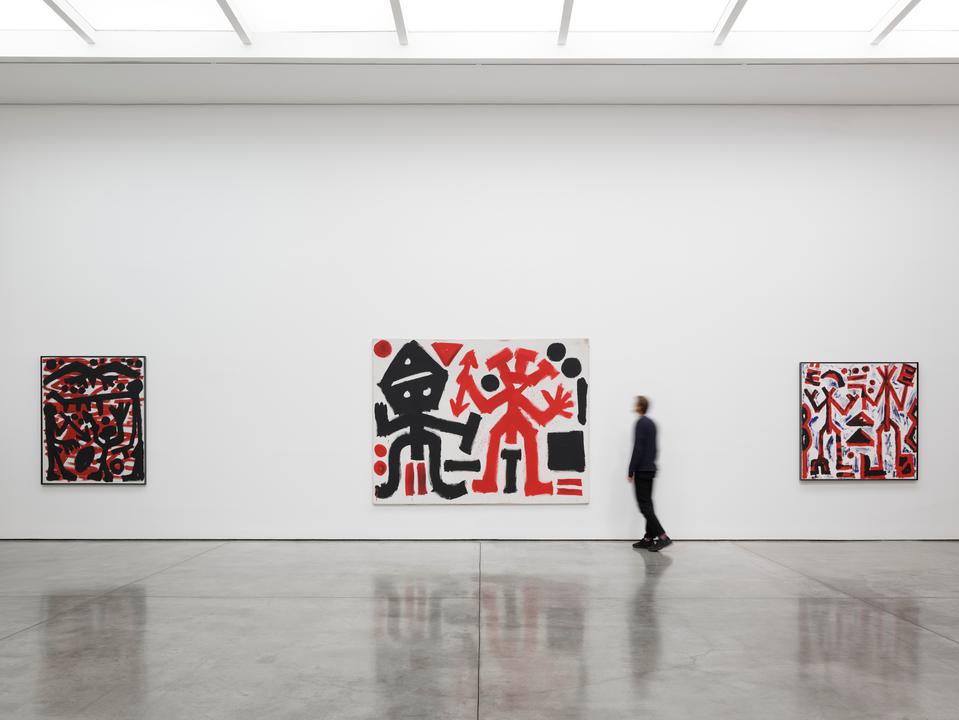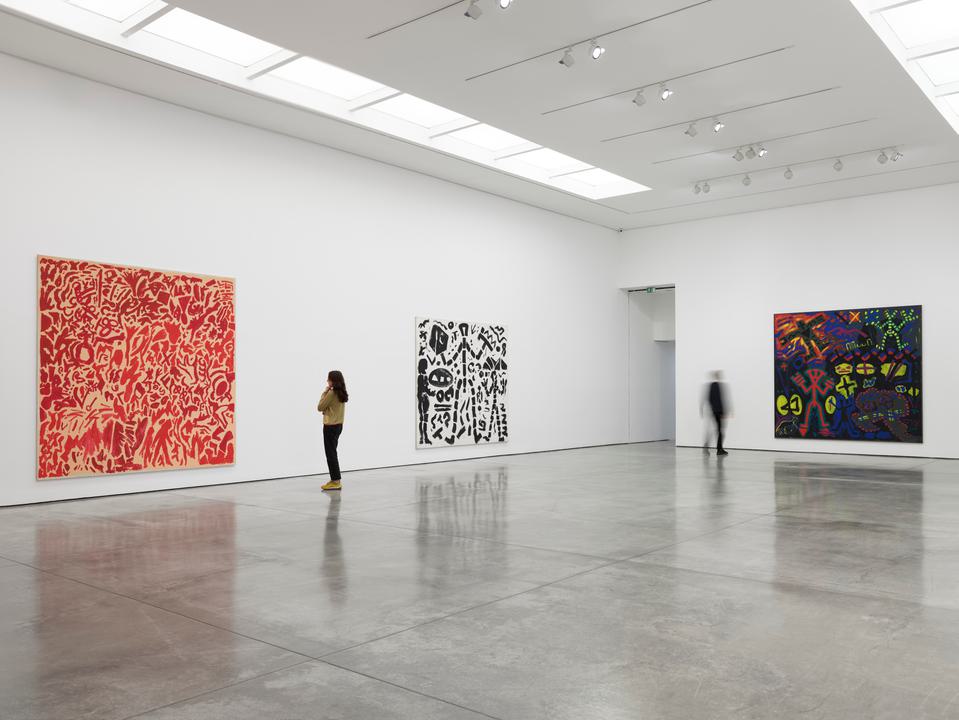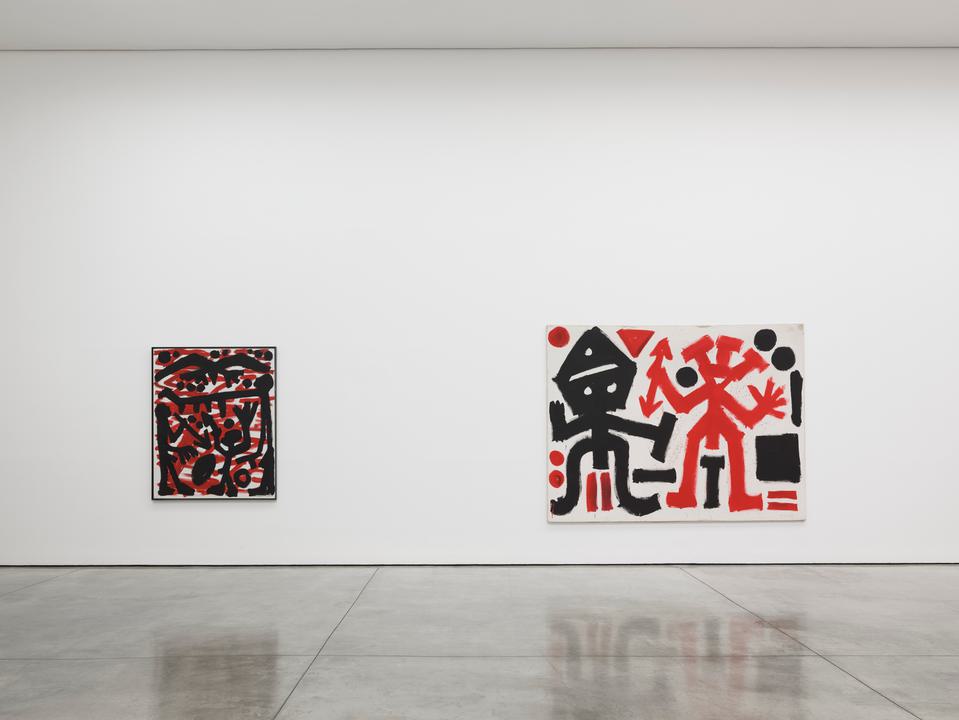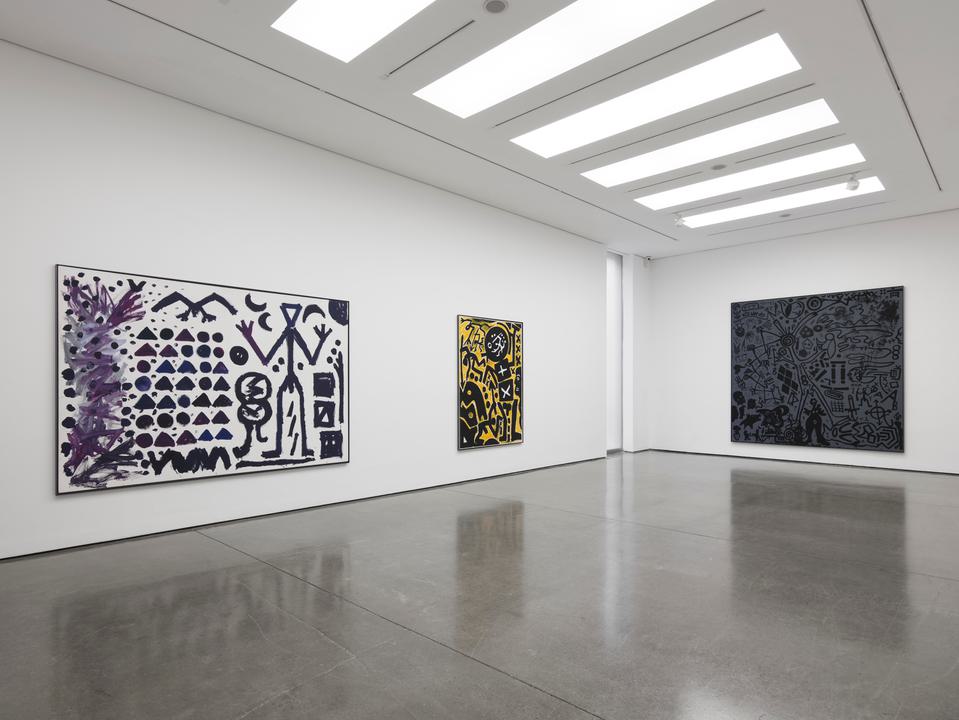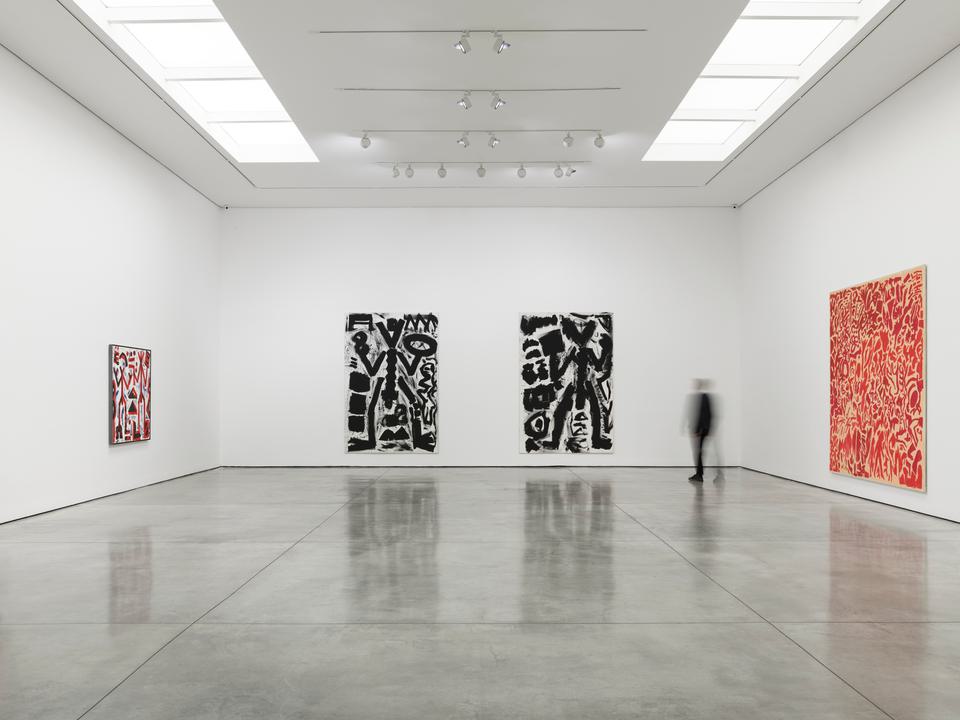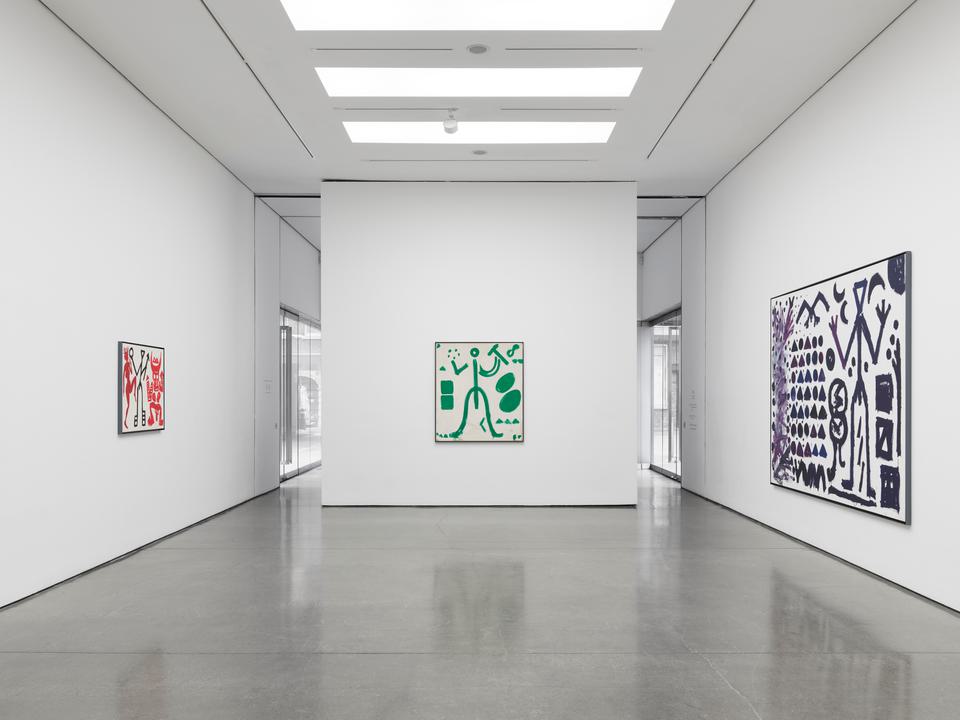 Film
In Focus: Louisa Sprinz on A.R. Penck
Louisa Sprinz, Senior Researcher at White Cube tours 'A.R. Penck: Paintings 1974–1990' (2022), in which she discusses the biographical events and cultural tumult that informed the artist's rhythmic compositions.
---