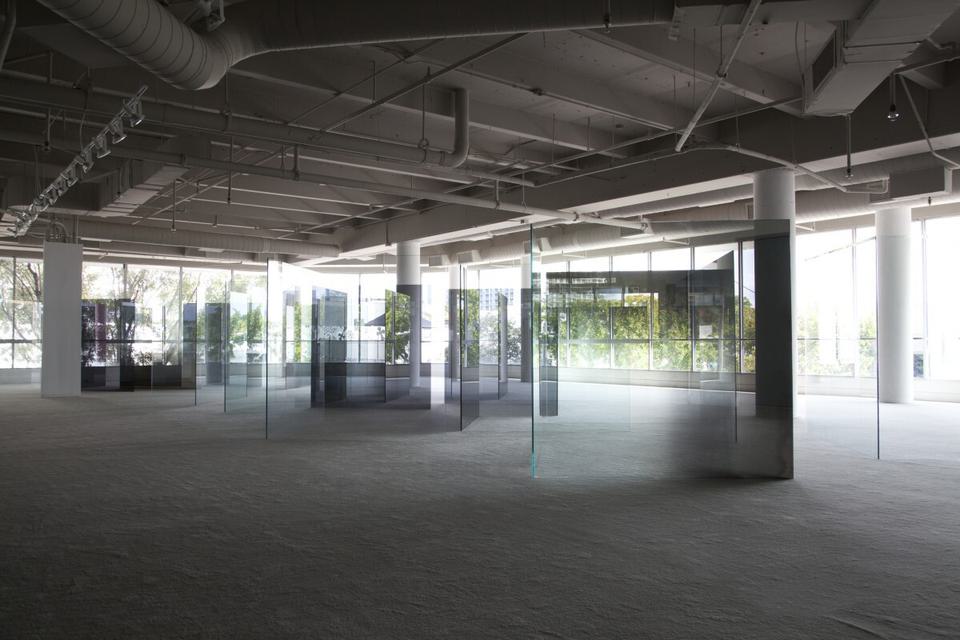 2 December 2015 – 9 January 2016
Dates
2 December 2015 – 9 January 2016
White Cube presented '6 x 6 An Improvisation' by Larry Bell, an off-site project organised to coincide with Art Basel Miami Beach. For this exhibition, Bell installed a major standing wall sculpture, previously exhibited at the Chinati Foundation in Marfa, Texas (2014-15). 6 x 6 An Improvisation comprised of 36 individual glass panels. Responding intuitively to the dynamics of the space Bell, in the process of arranging the glass panels, allows the particular conditions of natural light at different times of the day to transform the installation.
One of the leading exponents of California's 'Light and Space' movement, Bell has consistently focused on the properties of light and its interface with surface throughout his 50-year long career. His earliest works from the 1960s, paintings on shaped canvases, corresponded to the silhouette of a box drawn in isometric projection. This exploration of spatial ambiguity eventually evolved into sculptural constructions made of wood and glass and then glass cubes and standing glass-panel wall sculptures, for which he has now become well known. From 1963 onward, Bell began exploring the passing of light through his sculptures, deploying a technique of vacuum deposition whereby thin films were added to the clear glass panels. The resulting glass cubes, presented on transparent pedestals, offered the viewer the essence of captured light, challenging notions of mass, volume and gravity in one single measure.

Bell continues to employ glass in his work, harnessing, in particular, the material's special properties of transmitting, absorbing and reflecting light. He has said: 'Although we tend to think of glass as a window, it is a solid liquid that has at once three distinctive qualities: it reflects light, it absorbs light, and it transmits light all at the same time.'
In 6 x 6 An Improvisation, Bell combines three types of glass; grey, clear and partially coated panels that have been treated with a thermal evaporation process, depositing a thin layer of nickel-chrome on their surface. Architectural in form and reference, the panels function as mirrors, windows and doors. Bell describes his 'Standing Walls' as 'improvisational' since not only do they change with varying light but incorporate a degree of experimentation in their final forms, as the technical process of their making allows for many possibilities and permutations. Highly dramatic and visually complex, 6 x 6 An Improvisation creates a sequence of layered reflections and shapes, converging hues and densities, while maintaining the illusion of volume.
Commenting on the series, Bell says: 'In some cases, it's highly reflective where the glass parts come together, in others it is highly reflective where the glass touches the floor, and so on. And I like the idea of being able to just combine these things so they'd stand up, since the parts were all the same size. The balance is in the weight of their own vertical thrust, and they are anchored to the floor and bound together with glue. So they hold each other up, and I could change it anyway I want.'
Recent installations of the standing wall sculptures in addition to the Chinati Foundation installation (2014-15), include 6 x 8 An Improvisation at White Cube Mason's Yard, London (2015). Bell's work will also be included in a group show, 'LAX-MIA: Light + Space' at The Surf Club, 9011 Collins Avenue, Surfside, Miami from 1 - 12 December 2015.
Larry Bell was born in 1939 and lives and works between Los Angeles, CA and Taos, New Mexico. He has exhibited widely, including the group exhibitions 'Larry Bell, Robert Irwin, Doug Wheeler', Tate Britain, London (1970); '11 Los Angeles Artists', Hayward Gallery, London (1971) and 'Phenomenal', Museum of Contemporary Art San Diego (2011). Solo exhibitions include the Pasadena Art Museum, California (1972); Fort Worth Art Museum, Dallas, Texas (1975 and 1977); Museum of Contemporary Art, Los Angeles (1986); Denver Art Museum, Colorado (1995) Carré d'Art Musée d'art Contemporain de Nîmes, France (2011) and The Chinati Foundation, Marfa, Texas (2014).
Quotes taken from an interview between Larry Bell and Marianne Stockebrand, White Cube Mason's Yard, 16 July 2015.
With thanks to DACRA and the Chinati Foundation. Furniture generously supplied by ESPACIO- 

Larry Bell, 6 x 6 An Improvisation

Suite #200, Melin Building
3930 NE Second Ave.
Miami, FL 33137