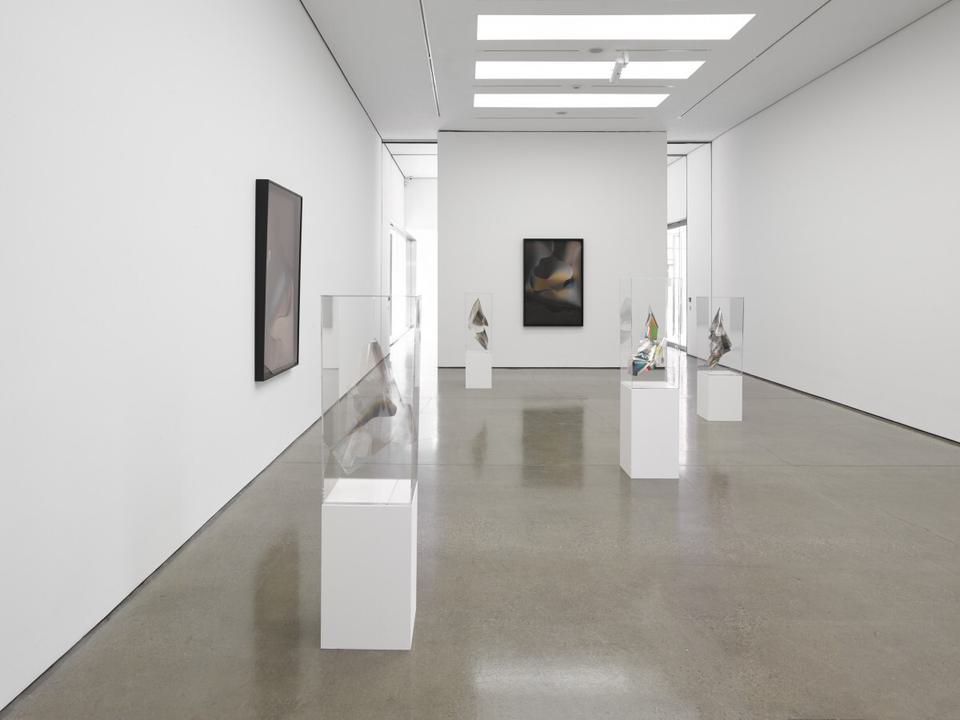 17 July – 26 September 2015
Dates
17 July – 26 September 2015
Location
25 – 26 Mason's Yard
London SW1Y 6BU

White Cube Mason's Yard presented '2D-3D: Glass & Vapor'. This was the fourth solo exhibition at White Cube by Larry Bell, a leading exponent of the California 'Light and Space' movement. The exhibition included three early glass installations: Gone but not Forgotten (1969), Corner Lamp SB 8 (1981) and a large, 'Standing Wall' improvised sculpture (1994) as well as collages on paper and new, kinetic 'Light Knot' sculptures.

Throughout his career, Bell has focused on the properties of light and its interface with surface. He began as a painter in the 1960s, but soon made work with mirrors to produce three-dimensional constructions. It was through these initial investigations that he discovered an industrial vacuum plating process called 'thin film deposition' and in the late-1960s, Bell acquired a large, walk-in vacuum chamber for his studio.
During the '70s and '80s, Bell's glass works included monumental 6 x 8 foot, coated panel sculptures called 'Standing Walls'. These panel sculptures are often installed as improvisational configurations on site. The evaporative metallic and quartz films that Bell deposits in a vacuum environment on the glass surfaces, as well as on paper and plastic, create light, interference, colours and reflectivity. For the viewer, these coatings appear as 'light on surface' without changing the material characteristics of the surface.

Gone but not Forgotten installed at the entrance of the lower ground-floor gallery, consists of four thin strips of glass, coated with Inconel, a nickel-chrome based alloy. Direct illumination on the shelves produces the visual image of a three-dimensional drawing doubled by reflected coloured light on the wall. This work is one of the few surviving examples of Bell's first experiments with the plating process. Bell continued these projection-enhanced works by creating a series called 'Corner Lamps'. 'Corner Lamps' are a quarter of a circle of vacuum coated glass, installed in a wall corner and lit at a particular angle from the ceiling by a halogen lamp. The projected light transmits a dual triangulation of refraction and illusion in colour, above and below the glass. Bell states that corners are a 'most commonly ignored element'.
To coincide with a major presentation of a 'Standing Wall' installation of thirty-two, six foot square glass panels (c.1989–2014) which was on show at the Chinati Foundation, Marfa, Bell installed 6 x 8 An Improvisation, in the centre of the lower ground-floor gallery at Mason's Yard. Of this work, Bell remarked: 'I wanted the work to operate in my peripheral vision as well as my direct vision.' In so doing, he responded intuitively to the surrounding space, creating an environment which invited and enveloped the viewer within a sequence of layered reflections and shapes, converging hues and densities and the illusion of volume.
The smaller lower ground-floor gallery included three 'Vapor Drawings' on coated paper from 2004. Bell's 'Vapor Drawings' are created in the vacuum chamber by masking out areas, similar to a stencil. As in all the materials that Bell coats, the paper is bent, folded or crunched, or angled for gradient or other effects as the metals and quartz rake over the surface.
Upstairs in the ground-floor gallery, a new series of 'Light Knot' sculptures suspended within transparent cases, created an inter-play of fluid, complex mirrored forms that appear gravity-defying and weightless, almost calcified in mid-motion. The sculptures, all titled '3D VD', are made from pliable, vacuum coated, curvaceously-shaped sheets of polyester film absorbing and reflecting their surroundings, and ceaselessly shifting into a multitude of emergent shapes and colours.